Mauritius-China Free Trade Agreement
Mauritius-China Free Trade Agreement
Overview
Consultations pertaining to the Mauritius-China Free Trade Agreement (FTA) started in 2018. It was signed on the 17th of October 2019 in Beijing China and came into force on the 1st of January this year.

The FTA covers some 8,547 Chinese tariff lines and 6,375 Mauritian tariff lines, namely in goods, trade in goods, trade in services, investment, economic cooperation, dispute settlement, electronic commerce, competition policy, intellectual property rights, technical barriers to trade, sanitary and phytosanitary measures and legal provisions.

The Economic Development Board (EDB) organized a two-day workshop, on the 1st and 2nd of March 2021 on the Mauritius-China FTA, themed Shaping Future Economic Perspectives. The event saw the participation of the Ministry of Finance and Economic Development, the Ministry of Foreign Affairs, Regional Cooperation and International Trade, the Ministry of Industrial Development, SMEs and Cooperatives, the Ministry of Financial Services and Good Governance, the Ministry of Information Technology, Communication & Innovation, the Bank of Mauritius, the Mauritius Revenue Authority, the People's Republic of China Embassy in Mauritius, the Mauritius Chamber of Commerce & Industry (MCCI), Business Mauritius and various Mauritian and Chinese business operators.

Through a series of presentations and discussions, the Mauritius-China FTA and its many components were comprehensively detailed. Among the objectives of the workshop were to market the FTA among both Mauritian and Chinese business operators, to share business intelligence, personal experiences and market trends, and to help stakeholders develop new business models to tap new opportunities under the FTA.
How will the FTA benefit both parties
The elimination of Customs Duties-tariff phase down can be broken down to three categories with regards to China:
Immediate
5 years
7 years
Whereas for Mauritius, the elimination of Customs Duties-tariff phase down will be application in 5 years. Furthermore, there will a non-imposition of Non-Tariff Barriers on imports of both parties, that is Mauritius and China. The FTA will endeavour to facilitate trade between the two countries by simplifying procedures as well as enhancing transparency. Cooperation will be strengthened and will be based on international standards, guidelines and recommendations. The FTA will also strive to ensure that standards, technical regulations and conformity assessment procedures do not create unnecessary technical barriers to trade.
Chinese offer to Mauritius
Immediate liberalisation : 7,504 lines (i.e 87,7%)

Tariff phase down over 5 years: approximately 449 lines (i.e 5%)

Tariff phase down over 7 years: approximatey 274 lines (i.e 3%)

Excluded: 313 lines (i.e 3.6%): green teas, grains, wheat, rice, oil, tobacco products, paperboards, some woollen and cotton fabrics, machines.
Market Access in China
Immediate liberalisation - 7,504 lines (i.e 87,7% of Chinese tariff lines)

Products:

Live animals
Frozen meat
Fresh & Chilled Fish (including but not limited to Bluefin, Skipjack, Bigeye, Skipjack, Yellowfin, Swordfish, Seabass etc.)
Dairy products
Flowers and vegetables
Preserved products (including sea urchins and cucumbers)
Cane Molasses
Sugar confectionery
Wines, spirits (including rhum)
Chemicals and their compounds, fertilisers
Medication
Paints and Varnishes
Essential Oils
Waxes and Polishes
Animal Hides & Articles of leather
Articles of textiles and garments
Articles of Stones, plaster and cement
Optical products and glassware
Medical devices
Jewellery and some semi-precious stones
Iron bars, pipes and wires

Tariff phase down over 5 years – 432 lines (5% of Chinese tariff lines)

Products:

Frozen Bigeye Tuna
Frozen fish + Frozen Yellowfin Tuna
Frozen fillets of Tuna, Skipjack or stripe-bellied Bonito
Fish Fats, Oils and Fractions
Lychees and fresh fruits
Coffee
Fresh and Chilled meat and offal of fish and other animals
Nuts including macademia
Prepared and preserved foods
Jams and jellies
Household articles of plastic
Rubber Dyes
Textile fabrics
Garments
Footwear
Jewellery, jewellery parts and imitation jewellery
Articles made of Aluminium
Solar & Gas Water Heaters
Electrical Devices
Television Sets
Engines for Motorcycles
Clocks and watches and parts thereof

Tariff phase down over 7 years – 288 lines (3% of Chinese tariff lines)

Products:

Black tea (FROM EXCLUSION LIST)
Watch straps, bands, bracelets and parts thereof
Clock or watch dials
Photographic or cinematographic goods
Garments (overcoats, trousers, dresses, jackets…)
Automobiles, Chassis fit with engines
Vehicle parts
Sugar Market Access in China
In addition, a Tariff Rate Quota for 50,000 tonnes of Sugar will be implemented on a progressive basis over a period of 8 years with an initial quantity of 15,000 tonnes.
| HS CODE | DESCRIPTION OF PRODUCT |
| --- | --- |
| 17011200 | Raw beet sugar |
| 17011300 | Raw cane sugar |
| 17019100 | Other cane sugar |
| 17011400 | Cane or beet sugar containing added flavouring or colouring matter |
| 17019910 | Granulated sugar |
| 17019920 | Superfine sugar |
| 17019990 | Other refined sugar |
Mauritius Offer to China
Out of 6,375 tariff lines
Trade in Services
Investment
The Mauritius-China FTA also caters for a while chapter on investment between the two countries, and has set up a comprehensive framework regarding financial services, the movement of natural persons, and domestic regulations amongst others.
Chinese Investments in key sectors:



The aims are to attract Chinese investments to diversify our products base and to set up Mauritius as a manufacturing base for exports duty free to Africa under the South Africa Development Community (SADC), Common Market for Eastern and Southern Africa (COMESA) and eventually, the Africa Continental Free Trade Agreement (AfCFTA).

Investment can be attracted in the following sectors:


Construction projects
Energy (including hydroelectricity)
Artificial Intelligence & Robotics
Research & Development (to support Innovation)
Information Technology/Telecommunicications
Real Estate & Entertainment/Leisure
Port Development



Areas for Mauritians to invest in China

Prospects for Mauritians to invest in Free Trade Zones (manufacturing units)
Real Estate (enterprises can be wholly Mauritian-owned)
Leasing (subsidiaries can be wholly-Mauritian-owned)
Computer Services
Wholesale Trade
Construction projects
Other Opportunities for Mauritians
Land may be used by enterprises and individuals (conditions apply) for residential, industrial and other purposes
Joint Ventures investment : minimum 25% of the Joint Venture
Professional services: medical & dental, legal, accounting services, architectural; engineering, urban planning, travel & tour operators, hotel and restaurants
Financial services: Non-life insurance, life insurance, banking, local financial institutions willing to establish a subsidiary/branch/joint venture in China
Panel Discussions during the 'Mauritius-China FTA' two-day workshop
The Secretary-General of the MCCI, Dr Yousouf Ismaël chaired two interesting panels over the two days.
The first panel discussion, themed Expanding Businesses and Increasing Exports – Opportunities arising from Preferential Market Access, comprised Mr Devesh Dukhira, CEO of the Mauritius Sugar Syndicate, Miss Grace Qiu, General Manager of Mauristea Investment Co. Ltd, Mr Allan Matthieu, Director of YOAL Shanghai Trade Co. Ltd and Mr Arnaud Luppens, Sales & Marketing Executive Laguna Clothing.
The discussions can be viewed below: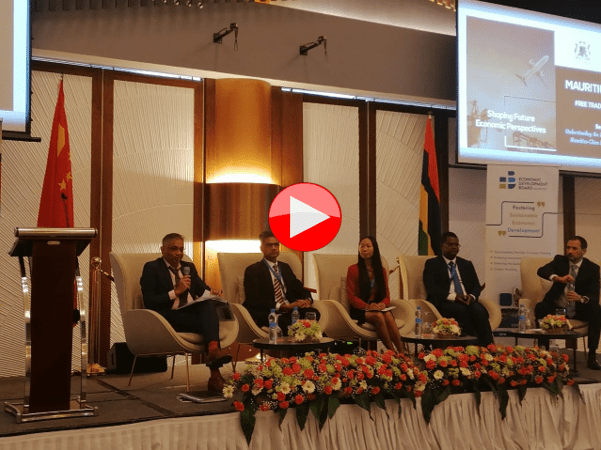 As for Day-2, the panel discussion focused on the Trilateral Axis China-Mauritius-Africa. Moderated by Dr Yousouf Ismaël, it had as panellists Mr Ravin Dajee, Managing Director, ABSA Bank (Mauritius) Ltd, Mr Ian Valentine, Principal Consultant Huawei, Mr Allen Yang, General Manager Jin Fei, Mr Mahen Rawoteea, Director, Ministry of Finance, Economic Planning and Development, Mr Li Hai, Chairman Yi Hai Smart City.
Watch the interactions below: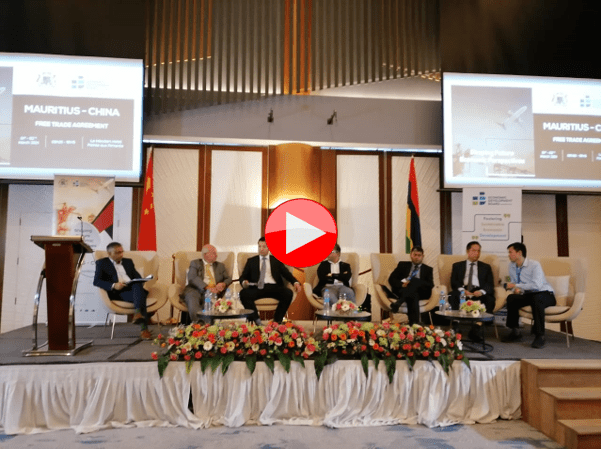 Complementary information about the Mauritius-China FTA is available here


Acknowledgements:
The Economic Development Board, the Ministry of Foreign Affairs, Regional Cooperation and International Trade, panellists and speakers present at the Mauritius-China FTA workshop.
Australia
June 1995
Australian Chamber of Commerce and Industry (ACCI)
Austria
September 2014
Austrian Federal Economic Chamber
China
April 1997
China Council for the Promotion of International Trade (CCPIT) - Beijing
China International Economic and Trade Arbitration Commission - Shanghai
November 1998
CCPIT Guangdong Sub-Council
September 2008
CCPIT Qingdao
May 2007
CCPIT Qingdao
Comores
April 2017
L´Union des Chambres de Commerce, d´Industrie et d´Agriculture
Djibouti
August 2008
Chamber of Commerce of Djibouti
Estonia
September 2015
Estonia Chamber of Commerce and Industry
France
September 1996
l'Assemblée des Chambres Françaises de Commerce et d'Industrie (ACFCI)
India
November 1985
Federation of Indian Chambers of Commerce and Industry (FICCI)
May 1996
Confederation of Indian Industry (CII)
June 1995
Tamil Nadu Chamber of Commerce and Industry
January 2004
India International Trade Center
May 2004
Seafood Exporters Association of India
October 2005
Seafood Exporters Association of India
Kenya
January 2011
The Kenya National Chamber of Commerce and Industry (KNCCI)
Madagascar
November 2004
Fédération des Chambres de Commerce, d'Industrie, d'Artisanat et d'Agriculture de Madagascar
Malaysia
August 1994
The National Chamber of Commerce and Industry of Malaysia
June 2005
Malaysian Associated Indian Chambers of Commerce and Industry
Mozambique
September 2012
Chamber of Commerce of Mozambique
Nigeria
June 2019
Nigeria Association of Chambers of Commerce and Industry, Mines and Agriculture
Pakistan
October 2004
The Federation of Pakistan Chambers of Commerce and Industry (FPCCI)
Réunion
June 1995
Chambre of Commerce and d'Industrie de la Réunion
March 2002
L'Association pour le Développement Industriel de la Réunion
Russia
May 2007
Chamber of Commerce and Industry of the Russian Federation
Seychelles
November 2005
Seychelles Chamber of Commerce and Industry
April 2014
Seychelles Chamber of Commerce and Industry
Slovakia
September 2018
Slovak Chamber of Commerce and Industry (SCCI)
South Africa
September 2016
South African Chamber of Commerce and Industry
Sri Lanka
May 2004
National Chamber of Commerce of Sri Lanka
Taiwan
September 2017
Taiwan External Trade Development Council
Tanzania
January 2011
The Tanzania Chamber of Commerce, Industry and Agriculture (TCCIA)
Thailand
August 2004
The Federation of Thai Industries (F.T.I)
February 2013
TUSKON
Turkey
August 2014
DEIK (Foreign Economic Relations Board)
TOBB (The Union of Chambers and Commodity Exchanges of Turkey)