Incoterms and International Terms of Payment
Incoterms®
The Incoterms® rules provide internationally accepted definitions and rules of interpretation for the most common commercial terms. They help traders avoid expensive misunderstandings by elucidating the responsibilities, costs and risks involved in the delivery of goods from sellers to buyers.  
Detailed information on Incoterms® can be obtained from the International Chamber of Commerce website.
CLEARING AND FORWARDING 
Freight Forwarders and Brokers
To facilitate the import/export process, traders can have recourse to the services of freight forwarders or customs brokers.
Freight Forwarder

Assist clients from the very first step by offering advisory, packing, shipping services. Additionally, freight forwarders may complete all procedural and documentation formalities involved in port and customs clearance.
List of freight forwarding agents is available on the website of the Professional Association of Freight Forwarders of Mauritius.
Customs Broker
Only concerned with completing all procedural and documentation formalities involved in custom and port clearance.
A list of customs brokers is available on Customs House Brokers Association - Mauritius.

The TradeNet System  
TradeNet is an electronic network that enables traders, customs brokers, shipping agents and freight forwarders to submit documents (such as manifests, declarations, EUR1 certificates, import & export permits) to MRA Customs Department and the Ministry of Industry, Commerce and Consumer Protection. Electronic payment of duties and taxes is also possible as commercial banks are linked to the system.
PAYMENT
Methods of Payment in International Trade
Getting paid in full and on time is the primary goal for exporters - an appropriate payment method must be chosen carefully to minimize the payment risk while also accommodating the needs of the importer.
As shown below, there are four primary methods of payment for international transactions which involve differing risk levels to the importer and the exporter: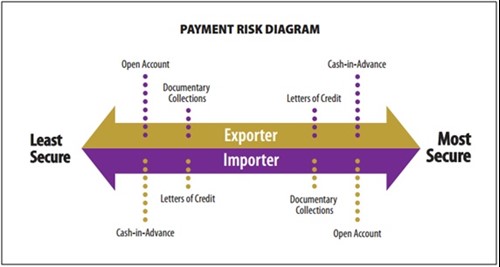 Source: US Department of Commerce, International Trade Administration
The table below shows a comparison of the different methods of payment:
| | | | | |
| --- | --- | --- | --- | --- |
| Method | Cash in Advance | Open Account | Documentary Collections | Letter of Credit |
| Time of Payment | Payment received prior to the transfer of ownership of the goods | Goods are shipped and delivered 30-90 days before payment is due | Funds are received from importer upon collection of documents from exporter's bank | When all terms and conditions, as verified by the presentation of documents , have been met |
| Goods available to Buyer | After payment | After payment | After payment | Before payment |
| Risk to Exporter | None | Very little to none | Disposal of unpaid goods | Relies on buyer to pay as agreed upon |
| Risk to Importer | Relies on exporter to ship goods as ordered | Relies on exporter to ship goods as agreed | Relies on exporter to ship goods as described in documents | None |
COMESA REPSS
Member countries can transfer funds more easily within COMESA with REPSS. Importers can pay for goods and services in their local currencies, whilst exporters will be able to invoice their products in their local currency. REPSS is built on open standards and is also accessible to non-member states.
As at January 2015, REPSS counted 6 live participants, namely, Malawi, Swaziland, Rwanda, Uganda, Kenya and Mauritius.
Local banks can access the payment system through their Central Banks. For more information on COMESA REPSS, click here.
SIRESS
Traders in the SADC region can use SIRESS to settle transactions in RAND between the SADC countries. Presently, the service is available in Barclays Bank Mauritius Limited, Standard Bank (Mauritius) Limited and The Mauritius Commercial Bank Ltd. More information on SIRESS can be obtained from the Committee of Central Bank Governors website.
Australia
June 1995
Australian Chamber of Commerce and Industry (ACCI)
Austria
September 2014
Austrian Federal Economic Chamber
China
April 1997
China Council for the Promotion of International Trade (CCPIT) - Beijing
China International Economic and Trade Arbitration Commission - Shanghai
November 1998
CCPIT Guangdong Sub-Council
September 2008
CCPIT Qingdao
May 2007
CCPIT Qingdao
Comores
April 2017
L´Union des Chambres de Commerce, d´Industrie et d´Agriculture
Djibouti
August 2008
Chamber of Commerce of Djibouti
Estonia
September 2015
Estonia Chamber of Commerce and Industry
France
September 1996
l'Assemblée des Chambres Françaises de Commerce et d'Industrie (ACFCI)
India
November 1985
Federation of Indian Chambers of Commerce and Industry (FICCI)
May 1996
Confederation of Indian Industry (CII)
June 1995
Tamil Nadu Chamber of Commerce and Industry
January 2004
India International Trade Center
May 2004
Seafood Exporters Association of India
October 2005
Seafood Exporters Association of India
Kenya
January 2011
The Kenya National Chamber of Commerce and Industry (KNCCI)
Madagascar
November 2004
Fédération des Chambres de Commerce, d'Industrie, d'Artisanat et d'Agriculture de Madagascar
Malaysia
August 1994
The National Chamber of Commerce and Industry of Malaysia
June 2005
Malaysian Associated Indian Chambers of Commerce and Industry
Mozambique
September 2012
Chamber of Commerce of Mozambique
Nigeria
June 2019
Nigeria Association of Chambers of Commerce and Industry, Mines and Agriculture
Pakistan
October 2004
The Federation of Pakistan Chambers of Commerce and Industry (FPCCI)
Réunion
June 1995
Chambre of Commerce and d'Industrie de la Réunion
March 2002
L'Association pour le Développement Industriel de la Réunion
Russia
May 2007
Chamber of Commerce and Industry of the Russian Federation
Seychelles
November 2005
Seychelles Chamber of Commerce and Industry
April 2014
Seychelles Chamber of Commerce and Industry
Slovakia
September 2018
Slovak Chamber of Commerce and Industry (SCCI)
South Africa
September 2016
South African Chamber of Commerce and Industry
Sri Lanka
May 2004
National Chamber of Commerce of Sri Lanka
Taiwan
September 2017
Taiwan External Trade Development Council
Tanzania
January 2011
The Tanzania Chamber of Commerce, Industry and Agriculture (TCCIA)
Thailand
August 2004
The Federation of Thai Industries (F.T.I)
February 2013
TUSKON
Turkey
August 2014
DEIK (Foreign Economic Relations Board)
TOBB (The Union of Chambers and Commodity Exchanges of Turkey)