Information Session on the New Regulations on Domestic and Electrical Appliances
Business updates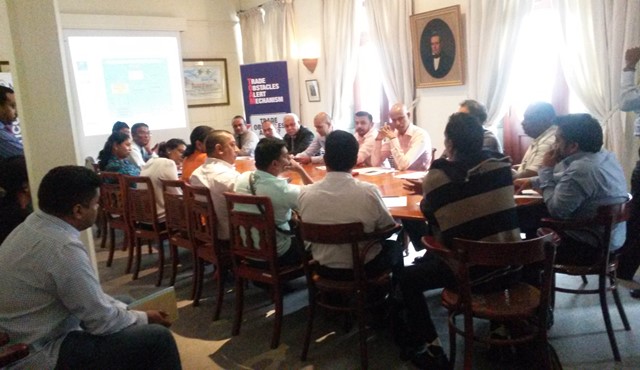 Information Session on the New Regulations on Domestic and Electrical Appliances
Trade
24 Sep 2015
In view of the forthcoming Consumer Protection (Safety Requirements) Regulations to control the safety requirements of Domestic and Electrical Household Appliances, the MCCI organised an Information Session to apprise its Members of the new provisions of the Legislation.

Mr. B. Cunniah, Manager of Electrical and Electronics Engineering Laboratory at the Mauritius Standards Bureau and Mr. G. Mungroo, Team Leader at MRA Customs were invited to make presentations on the new compliance procedures and customs formalities respectively. Mr. K. Seegoolam, Acting Head of the Consumer Affairs Unit (CAU) from the Ministry of Industry, Commerce and Consumer Protection was also invited to brief Members on the role of the CAU when the regulations will be implemented.

Some 25 Members operating in this sector attended the Information Session and some of them have raised several practical issues and have also made recommendations on how the process flow could be made easier.

It is expected that the Consumer Protection (Safety Requirements) Regulations will be implemented in January 2016.

Copies of the IEC Safety Standards are available at the MSB, Tel: 433-3648.

The Presentations can be downloaded from the following links:

MSB Presentation on the Safety Regulations
Customs Presentation on the Safety Regulations