WTOI points to slower trade growth into first quarter of 2019
Business updates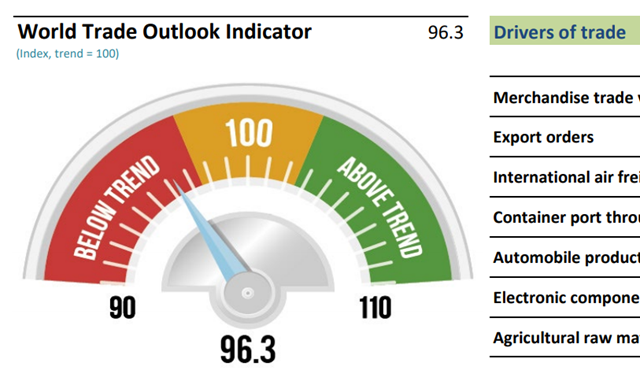 WTOI points to slower trade growth into first quarter of 2019
Trade
20 Feb 2019
The World Trade Outlook Indicator (WTOI) released on 19 January indicates that trade weakness is likely to extend into the first quarter of 2019.
The WTOI's latest value of 96.3 is the weakest since March 2010 and is below the baseline value of 100 for the index, signaling below-trend trade expansion into first quarter.
Weakness in the overall index was driven by steep declines in the component indices, which appear to be under pressure from heightened trade tensions. Indices for export orders, international air freight, automobile production and sales, electronic components and agricultural raw materials have shown the strongest deviations from trend, approaching or surpassing previous lows since the financial crisis.
The WTO downgraded its trade forecast last September amid escalating trade disputes and tighter credit market conditions. Trade growth is currently forecast to slow to 3.7% in 2019 from an expected 3.9% in 2018, but these estimates could be revised downward if trade conditions continue to deteriorate.  Nevertheless, greater certainty and improvement in the policy environment could bring about a swift rebound in trade growth.
The full report can be accessed here: https://www.wto.org/english/news_e/news19_e/wtoi_19feb19_e.pdf