WTOI: Further loss of momentum in trade growth into fourth quarter of 2018
Business updates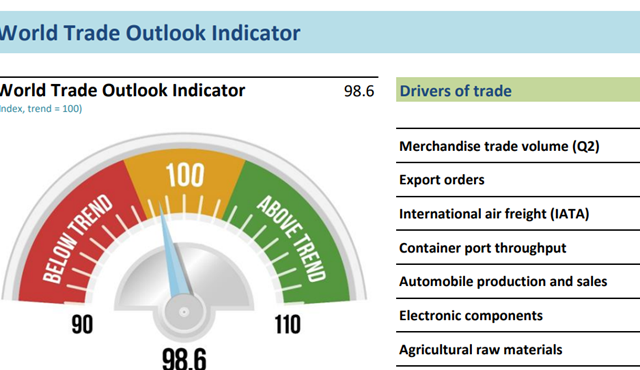 WTOI: Further loss of momentum in trade growth into fourth quarter of 2018
Trade
27 Nov 2018
The WTO's latest World Trade Outlook Indicator (WTOI), released on 26 November, indicates that trade growth in the coming months is expected to be below-trend.  The WTOI's latest value of 98.6 is lower than the previous value of 100.3 and falls under the baseline value of 100 for the index, signaling that trade growth in the coming months will decrease.
The further moderation in the overall WTOI index was driven by declines in all indices, with export orders (96.6) continuing to decline steadily over the course of the year and remaining below trend. Indices for automobile production and sales (96.9), electronic components (93.9), and agricultural raw materials (97.2) have moved from on trend to below trend. Meanwhile, international air freight (100.0) and container port throughput (101.2) have dipped but remain on trend.
Readings of 100 indicate growth in line with medium-term trends; readings greater than 100 suggest above trend growth, while those below 100 indicate the opposite. The direction of change reflects momentum compared the previous month. 
The full report can be accessed here.