SheTrades Invest for Women Entrepreneurs Seeking Finance
Business updates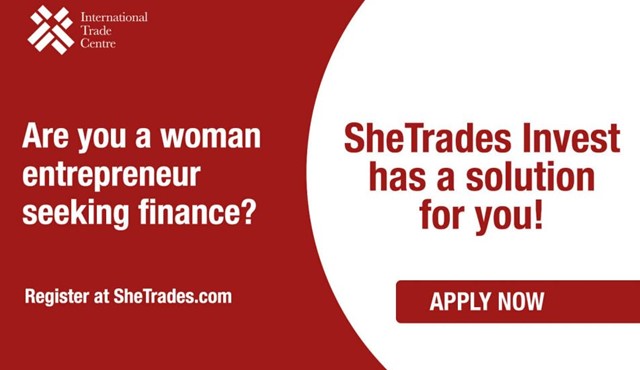 SheTrades Invest for Women Entrepreneurs Seeking Finance
Trade
05 Sep 2019
The International Trade Centre has announced the second phase of SheTrades Invest for women entrepreneurs and women-owned businesses to apply for an opportunity to receive training and ultimately finance to grow their businesses. Under the umbrella of the International Trade Centre's (ITC) SheTrades Initiative, SheTrades Invest is dedicated to supporting fruitful relationships between investors and women entrepreneurs in developing markets.
This project will enable women-owned small and medium-sized enterprises (SMEs) to have:
- Access to a range of local, regional and global investors and impact investors;
- Access to capacity-building/technical assistance from ITC; and
- Increased level of competitiveness and a deeper understanding of business practices, trade and investment.
Women entrepreneurs and women-owned businesses interested in joining SheTrades Invest are requested to apply before 30 September 2019.
Further information can be obtained on the ITC's website here.
The application criteria can be accessed here.
All applications will be reviewed, and selected companies will gain access to learning opportunities and technical assistance provided by ITC and its partners to improve their investment readiness and competitiveness. Companies selected for the training will also be assessed by a growing network of investors looking to fund promising enterprises and ideas.