ITC, UNCTAD, WTO launch Global Trade Helpdesk
Business updates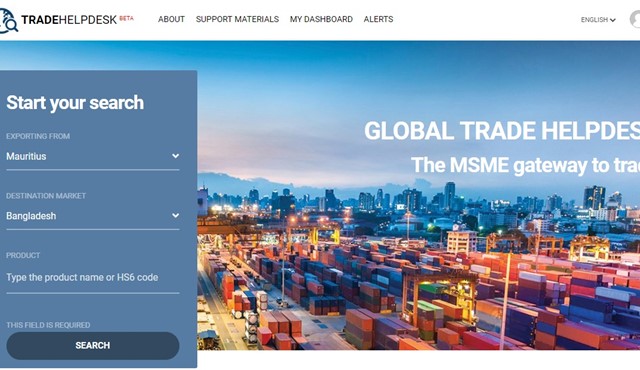 ITC, UNCTAD, WTO launch Global Trade Helpdesk
Trade
12 Dec 2017
The International Trade Centre (ITC), the United Nations Conference on Trade and Development (UNCTAD) and the World Trade Organization (WTO) unveiled an innovative tool to help businesses, in particular smaller firms, benefit from trade. Accessible through a new online hub – HelpMeTrade.org – the Global Trade Helpdesk will serve as a one-stop shop for businesses and policymakers to access trade data and practical information on target markets.


Launched at the WTO's 11th Ministerial Conference in Buenos Aires, Argentina, the Global Trade Helpdesk is a multi-agency response to an information gap in trade. For companies looking at potential export markets, the Helpdesk, which is still in a beta version, provides data on applicable tariffs and taxes; relevant health and safety standards and compliance procedures; details about export and import procedures such as pre-shipment formalities; and current trade patterns and trade agreements. Data will be added to the Helpdesk over a three-year period, and complemented with business information such as buyer and seller contacts as well as trade fair dates and locations.


By making trade and market information freely available and accessible through a user-friendly interface, the Global Trade Helpdesk will make it easier for companies across the world – especially micro, small and medium-sized enterprises (MSMEs) – to increase their participation in regional and international value chains and help them reduce trade costs. It will assist policymakers make better-informed decisions on trade and investment policies, and enable trade and investment support institutions improve support to their MSME clients.
Access the website here.