Awareness Session on Mauritius TradeLink (Single Window)
Business updates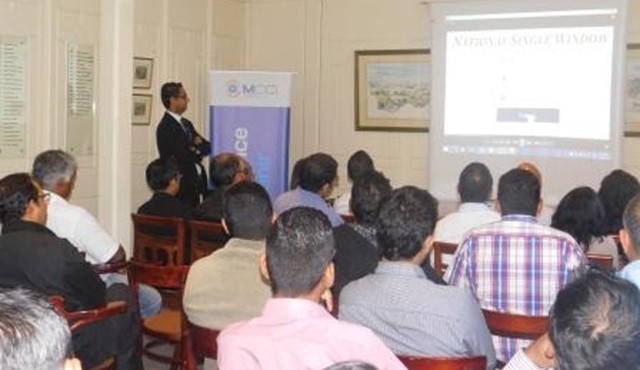 Awareness Session on Mauritius TradeLink (Single Window)
Trade
27 Jul 2016
The MCCI, in collaboration with MRA Customs and the Ministry of Industry, Commerce and Consumer Protection, organised its first awareness session on the Mauritius TradeLink (Single Window) on Tuesday 26 July 2016 in the MCCI Conference Room.
The Mauritius TradeLink was officially launched in January 2016 with the objective of providing to operators with a portal for the online application of import and export permits.Various benefits are expected to be derived from this project including a reduction in the dwell time for approval of import/export permits; reduced cost of doing business; 24/7 access to the portal via internet; and facilities for traders to track the progress of their applications in real time.
During the awareness session, Mr. C. Dabeesing, Section-Head, MRA Customs, presented the new portal for submitting electronic applications for import permits. The presentation was focused on import permits issued by the Trade Division of the Ministry of Industry, Commerce and Consumer Protection. It is to be noted that the project will be implemented in phases and that the other Government Agencies will gradually be integrated on the electronic platform.
The awareness session was attended by approximately 20 companies which would constitute the first batch of operators to be integrated on the new portal. The MCCI is the main private sector organisation participating in the Technical Committees set up to oversee the implementation of the Mauritius TradeLink and has been coordinating the consultation process with the private operators.