Launching of the National Export Strategy for Mauritius
Business updates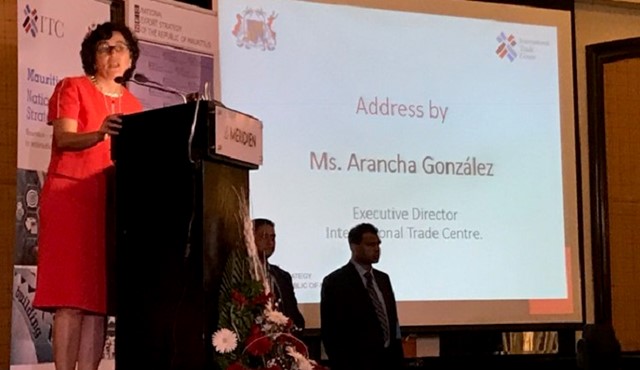 Launching of the National Export Strategy for Mauritius
Trade
03 Apr 2017
The National Export Strategy (NES) for Mauritius was launched on Friday 31st March 2017 at Le Maritim Hotel, Pointe aux Piments, by the Hon. Pravind Jugnauth, Prime Minister, Minister of Home Affairs, External Communications and National Development Unit, Minister of Finance and Economic Development in the presence of the Executive Director of the International Trade Centre, Ms. Arancha Gonzalez.
The NES document aims to boost the export capacities of the country's private sector and step up its trade with regional and global markets. NES will serve as a blueprint for the Government, the private sector and Mauritius' development partners to help the country's SMEs improve their competitiveness and generate higher-value jobs. These will guide Mauritius' effort to reinvigorate inclusive and sustainable growth through trade.
The Strategy also aims to tackle economy-wide constraints for trade growth and in response sets out five key cross-sector focus areas that will support export development and competitiveness: the internationalisation of SMEs; skills development; innovation; branding and institutional alignment.
The NES identifies seven sectors with high potential for export growth, employment generation and innovation: agro-processed foods; fisheries and aquaculture; medical devices; jewellery; financial services; software development and; cultural tourism.
More information can be accessed on:
http://www.intracen.org/news/Mauritius-launches-National-Export-Strategy/