British High Commission partners with MCCI to support SMEs in solar innovations
Business updates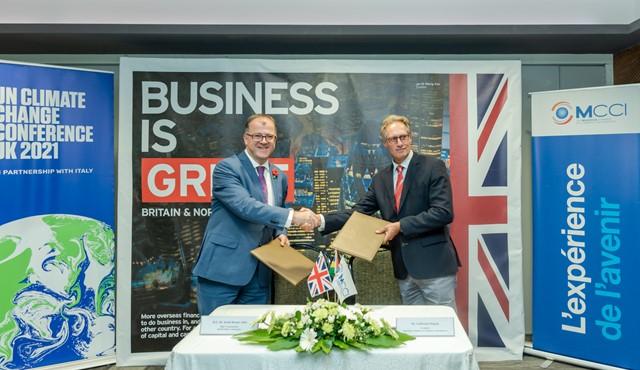 British High Commission partners with MCCI to support SMEs in solar innovations
Cooperation
05 Nov 2020
A Memorandum of Understanding was signed on Wednesday 4 November 2020 between the British High Commissioner, His Excellency Mr Keith Allan, and the President of the MCCI, Mr. Guillaume Hugnin, during an official ceremony held at the Caudan Arts Centre, in Port-Louis.
The main aim of the MoU is to ensure SME business survival and sustainability, particularly due to the vulnerability highlighted by the COVID-19 pandemic. The project, therefore, has, as objectives to educate and support Mauritian SMEs on sustainability and energy efficiency and to assist them to evaluate and revisit their cost structure in an attempt to be more cost effective.
The signing of this MoU allows a better assessment and understanding of the cost and operational challenges of SME's in this difficult economic context, through a grounded survey and an audit. Furthermore, specific support will be given to these small businesses regarding the shift from conventional energy use to the adoption of photovoltaic panels.
The project is an initiative of the MCCI to support these businesses through the installation of solar panels on their premises in a bid to address their operational challenges while promoting green business practices. This project will benefit from a financial support to the tune of Rs 300,000 from the British High Commission.