Business Meet with Women Entrepreneurs of the Small Enterprise Development Agency (SEDA) of South Africa
Business updates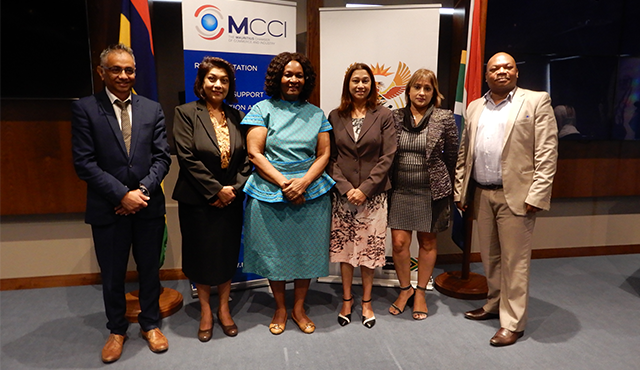 Business Meet with Women Entrepreneurs of the Small Enterprise Development Agency (SEDA) of South Africa
18 Oct 2022

From left to right:  Dr. Yousouf Ismaël, Mrs Nirmala Jeetah, Her Excellency Dr Hlamalani Nelly Manzini, Mrs Namita Jagarnath-Hardowar, Mrs Rima Ramsaran, president of "l'association mauricienne des femmes chefs d'entreprise" and Mr Ambrose Makgwale

A Business Meet was organised by the Mauritius Chamber of Commerce and Industry (MCCI), the Economic Development Board (EDB), the High Commission of South Africa in Mauritius and the Small Enterprise Development Agency (SEDA) of South Africa, at Voila Hotel in Bagatelle on Tuesday 18 October 2022. The delegation from the SEDA includes twenty women entrepreneurs from micro, small and medium-sized enterprises (MSMEs).

Some twenty local companies were present at the Business Meet which had for aim to promote trade and investment between Mauritius and the South Africa.

In his address, the Secretary-General (SG) of the MCCI, Dr. Yousouf Ismaël, stated that the two countries share strong ties, particularly due to the fact that both are part of the Southern African Development Community (SADC), the Commonwealth and they enjoy trade benefits where exports between the Member States of SADC Free Trade Area are duty-free for all products.

Mrs Nirmala Jeetah, director Bio Industry & Project Development at the EDB pointed out that in spite of the recent global crisis caused by the COVID-19 pandemic, South Africa remains a key market for imports, exports and investment.

Mr Ambrose Makgwale, leader of the SEDA stressed that through this trade mission, the SEDA wishes to allow the delegation to have exposure and create significant business opportunities. All the more so as the South African government wants MSMEs to export their products and services to other countries like Mauritius.

A workshop on regional trade was held in the afternoon. The resource persons were Mrs Rooma Pillay-Narrainen, Head of Advocacy at the MCCI; Mrs Hemlata Nundoochan, Chief-Supervision at the Bank of Mauritius, Mr Janesh Dookan, Manager Global Outreach at the EDB.