COMESA Business Council : Mr Marday Venkatasamy G.O.S.K re-elected as chairman
Business updates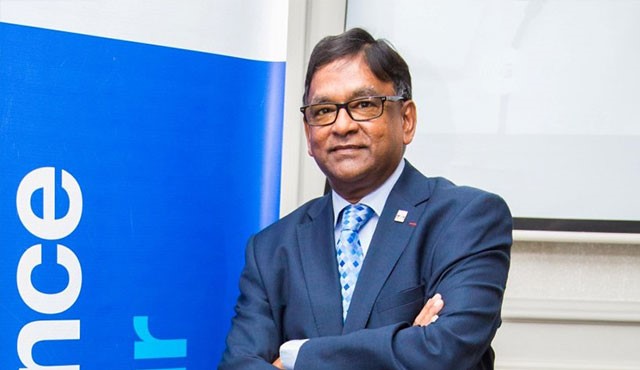 COMESA Business Council : Mr Marday Venkatasamy G.O.S.K re-elected as chairman
03 Dec 2021

Following the COMESA Business Council's (CBC) Annual General Meeting yesterday Thursday 2nd of December 2021, Mr Marday Venkatasamy, the MCCI's immediate past president, has been re-elected as chairman. He will preside the CBC's for a period of two years.

During the AGM, Mr Marday Venkatasamy has tabled the President's Report and has made a statement, highlighting the current context and his accomplishments as chairman for the past year.
"It will not be prudent to ignore the impact that COVID-19 has had to COMESA, Africa and world in general. I acknowledge the losses in every form that have been endured by different countries due to the Global pandemic and I applaud efforts by many leaders to safeguard the interests of their nations", said Mr Marday Venkatasamy.

The chairman of the CBC also mentioned the major projects undertaken by the organization, namely the focus lain on engaging sector workgroups and policymakers on pragmatic solutions to promote the growth of inclusive and sustainable industries in Member-Countries' respective economies and in the COMESA Region.

Mr Marday Venkatasamy also reminded Members that in October 2021, the CBC convened the Industry Technical Committee meeting which considered the CBC Regional Advocacy Agenda 2021. At the end of the meeting, the committee adopted the CBC Regional Advocacy Agenda and forwarded it to 15th COMESA Business Forum for further discussions and input from policy and decision makers.

In the same vein, in November 2021, the CBC presented the 15th Regional Business Declaration to 21st Summit of the COMESA Heads of State and Government. On this occasion, the CBC received sound recognition on its key flagship programs on digital financial inclusion for Micro Small and Medium Enterprises, anti-illicit trade and promoting private sector development within the regional integration agenda.

Upon his re-election as chairman of the CBC, Mr Marday Venkatasamy thanked Members for their trust and has reiterated his engagement and endeavour towards furthering the cause of the business community in the COMESA region.