Courtesy visit of the new High Commissioner for Pakistan to the MCCI
Business updates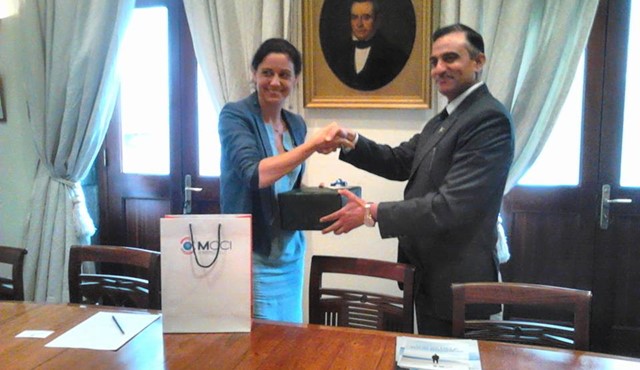 Courtesy visit of the new High Commissioner for Pakistan to the MCCI
MCCI
01 Oct 2015
The new High Commissioner for Pakistan to Mauritius, His Excellency Major General (Retd) Raza Muhammad, paid a courtesy call on the president of the MCCI, Mrs Hélène Echevin, on the 29 September 2015.
H. E.  Major General (Retd) Raza Muhammad spoke about the developments taking place in Pakistan namely the Pakistan-China Economic Corridor, which will connect Pakistan with China and Central Asian countries, making it a hub of transit trade in the region. He was of the view that Mauritian business people can use Pakistan as a gateway to capture the market of the neighbouring countries. He also made a presentation on the products which can be of interest to the Mauritian and African markets.
Mrs. Hélène Echevin recalled that the relations which exist between the business communities of both countries have been strengthened since the signing of a Joint Business Council between the Federation of Pakistan Chambers of Commerce and Industry and the MCCI in 2004. She also underlined that the participation of Mauritian companies in the Expo Pakistan, the biggest trade fair in the country, has become a regular feature. She added that there are further avenues of cooperation between the business people which can be explored through the Preferential Trade Agreement signed in July 2007.
Mr. Shehzad Ahmed, President of the Mauritius-Pakistan Joint Business Council also attended the meeting.
Both parties agreed that there should be more exchanges between their respective business communities.
Legend: H.E.  Major General (Retd) Raza Muhammad presenting a gift to Mrs. Hélène Echevin, President of the MCCI