Business updates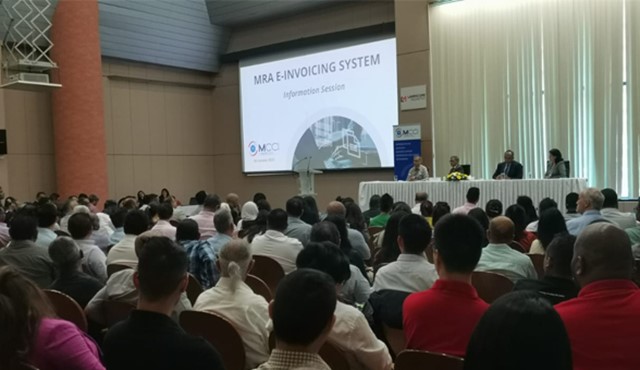 Information Session on the New E-Invoicing System
MCCI
06 Oct 2023
The Mauritius Revenue Authority (MRA) is currently introducing an e-Invoicing system whereby providers of products and services will be required to fiscalise their invoices/receipts in real time with the MRA before issuing them to their customers.

This initiative was announced in the Budget 2022/23.

In this context, an information session on the new e-invoicing system was organised by the Mauritius Chamber of Commerce and Industry (MCCI) on 6 October 2023 with representatives of the MRA.

In his introductory remarks, the Secretary General of the MCCI, Dr. Drishtysingh Ramdenee stated that the introduction of the new e-invoicing system would have significant implications on business operations and requested members to reach out to the MCCI regarding any queries or issues encountered.

Mr. Dhanraj Ramdin, Director, Small and Medium Taxpayers at the MRA and his team explained, the various requirements for the different stakeholders including the 'Electronic Billing System' (EBS) software developers, EBS solution providers and VAT-registered companies.

The MRA stated that in the initial stages, the registration process would be targeted to large companies with a turnover exceeding Rs 100M. Members present had the opportunity to discuss and clarify various implementation issues with the MRA Team.

A copy of the MRA presentation and new VAT (E-Invoicing) Regulations can be accessed here.