Business updates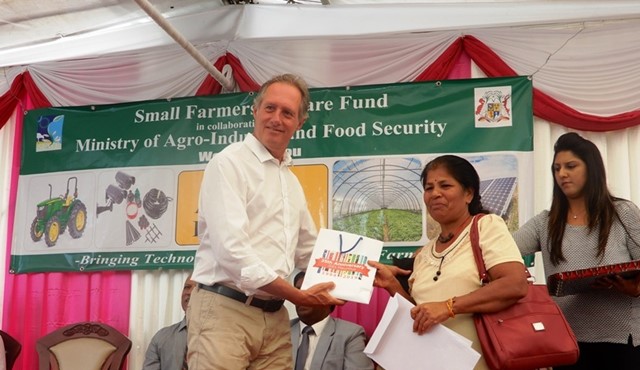 Certificate Remittance Ceremony in collaboration with Small Farmers Welfare Fund
GS1
15 May 2019
GS1(MAURITIUS) Ltd further celebrates its Silver Jubilee during a certificate remittance ceremony organised for the official launch of the Agri-Tech 2019.
The event, organised on 15 May 2019 in central Flacq, is subsequent to a Memorandum of Understanding which was signed in March earlier this year between GS1(MAURITIUS) LTD and Small Farmers Welfare Fund (SFWF) Ltd to provide micro and small agro-processors assistance to give their businesses and products more accessibility and visibility towards new market segments.
In his speech, Hon. Prithvirajsing Roopun, Minister of Arts & Culture mentioned the importance of acquiring GS1 Barcodes which include not only upgrading products to access new markets and supermarkets, but also GS1 Barcodes enable traceability to ensure food security.
During the ceremony, the beneficiaries were remitted two certificates: their GS1 Membership Certificate and their Certificate of Attendance for the training followed. They also received gifts bearing the specially-designed 25th anniversary logo, created in limited edition to mark GS1 Mauritius Silver Jubilee.
By acquiring GS1 Barcodes and Standards, the beneficiaries will enjoy the various benefits of adopting GS1 Standards and GS1 Barcodes namely: upgrading their products for local and international markets, cost reduction through inventory management, identification of products, assets, pallets, implementation of traceability solutions, prevention of counterfeited barcodes as well as gaining international visibility through the GS1 GEPIR and GS1 Cloud.
Legend: 
Mr. Guillaume Hugnin, Chairperson of GS1 (MAURITIUS) LTD remitting the certificates and gifts specially designed for the 25th anniversary to a beneficiary.