Handing over of Exequatur to Dr. Sheereen Bibi Banu Jaulim Honorary Consul of Mauritius in Olio USA
Business updates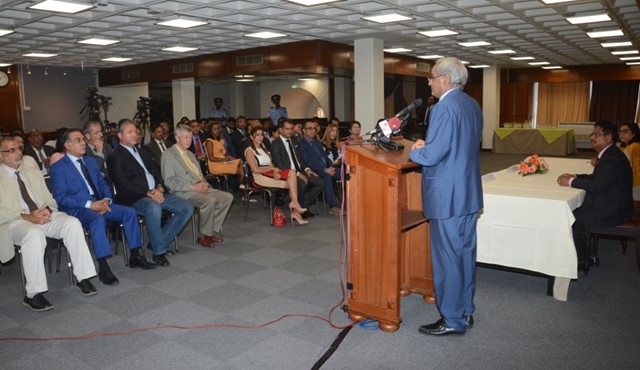 Mauritius poised to become the flagship of African countries
Cooperation
28 Dec 2017
Mauritius is poised to become Africa's foremost regional power with its opening to African countries. There is the need to reinvent Mauritius' economic strategy by identifying new sectors and embark on new path of economic development through innovation and restructuration that will help in the creation of Economic Zones in Africa and propel the country forward.
The Minister of Foreign Affairs, Regional Integration and International Trade, Hon. Seetanah Lutchmeenaraidoo, made this statement yesterday during an Exequatur presentation ceremony in Port Louis in the presence of members of the Diplomatic Corps. The Exequatur was presented to Dr Sheereen Bibi Banu Jaulim, the Honorary Consul of Mauritius in Ohio, USA.
In his address the Minister said that 2018 will be very challenging and productive year adding that Mauritius will be signing regional and multilateral agreements with a view to further extend its commerce on the international front. He made mention of the signature of a Comprehensive Economic Cooperation and Partnership Agreement with India and Free Trade Agreement with China.
According to Mr Lutchmeenaraidoo, Mauritius' economic integration and growing importance on the African continent will lead to new challenges and developments. He announced the opening of new embassies in Kenya and Ghana which will become the expression of a greater platform of economic diplomacy in the region. 
Minister Lutchmeenaraidoo also added that the new economic strategy of Mauritius will focus on developments in four main pillars: the Blue economy, the Maritime zone, the Africa Strategy and the Digital economy.
Source: GIS : http://www.govmu.org/English/News/Pages/Mauritius-poised-to-become-the-flagship-of-African-countries,-says-Minister-Lutchmeenaraidoo.aspx