Les Chambres de Commerce et d'Industrie de Maurice et de La Réunion s'allient en matière de formation
Business updates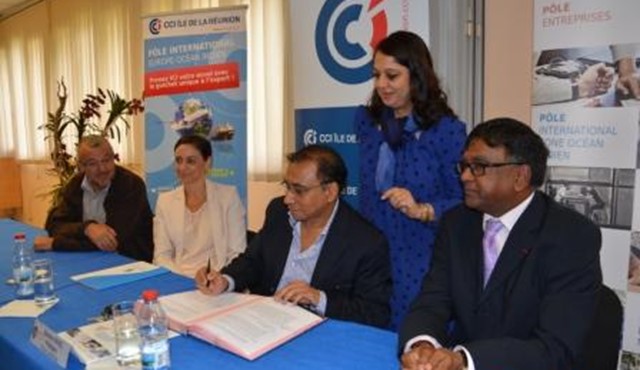 Les Chambres de Commerce et d'Industrie de Maurice et de La Réunion s'allient en matière de formation
Regional Cooperation
01 Sep 2016
La Mauritius Chamber of Commerce and Industry (MCCI) a signé une convention de coopération à Saint Denis, hier, le mercredi 31 août 2016, avec son homologue réunionnais, la Chambre de Commerce et d'Industrie de La Réunion (CCIR). Le document opère un transfert de savoir-faire entre le pôle de formation de la MCCI, la MCCI Business School et son équivalent, l'École de Gestion et de Commerce (ECG) de la Réunion.
La MCCI Business School s'est engagée à former les jeunes dans huit domaines prioritaires, parmi lesquels sont présents le digital, le transport et la logistique, l'environnement et le développement durable, entre autres. Les cours seront dispensés majoritairement à Maurice où les étudiants réunionnais pourront aussi se former en anglais.
L'objectif de cet accord est de favoriser une meilleure adéquation formation-emploi et une plus grande mobilité professionnelle et permettra ainsi de favoriser les affaires entre Maurice et la Réunion.
Légende (de droite à gauche) : M. Marday Venkatasamy, Vice-Président de la MCCI, M. Ibrahim Patel, Président de la CCIR, Mme. Raziah Locate, Directrice du Pôle International Europe-Océan Indien, Mme. Hélène Échevin, Présidente du Conseil d'Administration de la MCCI Business School, et M. Yves Hoareau, Vice-Président de la CCIR.