Business updates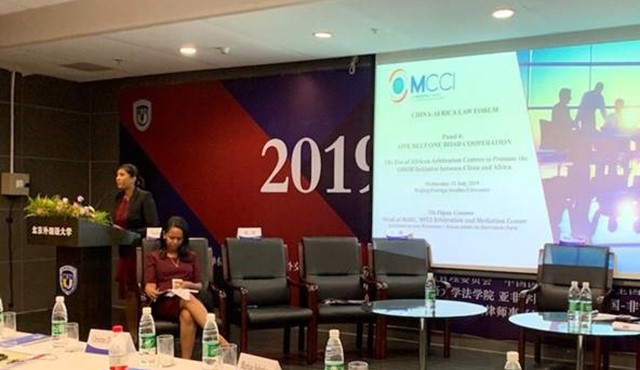 MARC participated in the First Annual Forum on China-Africa Law
MARC
02 Aug 2019
The Beijing Foreign Studies University Law School and the China-Africa Legal Research Institute hosted, on 30 and 31 July 2019, the First Annual Forum on China-Africa Law during which the Head of MARC took part in a panel discussion dedicated to the Belt and Road initiative. 
Ms Gunnoo addressed 'The Use of African Arbitration Centres to Promote the Belt & Road Initiative between China and Africa' on this panel, moderated by Dr Yao Qi (Assistant Professor and Assistant Dean of Law School of Beijing Foreign Studies University) and Ms Bethlehem Arega Asmamaw (Associate Legal Officer, African Union).
This panel discussion raised other key topics including the settlement of investment disputes, risk management of Chinese enterprises in Africa, China-Africa marine cooperation which aolso covered the promotion of the Blue Economy and the Smart Ocean Engineering.  
Experts, scholars, lawyers and international business leaders attended this event including Honorable Judge Abdulqawi A. Yusuf, President of the International Court of Justice, who delivered the keynote speech and launched the Chinese version of his magnum opus Pan-Africanism and International Law and Ambassador Dr Namira Negm (Legal Counsel, African Union) who delivered a speech on the AFCFTA, "Belt and Road" and Africa-China Cooperation.
The opening speech was given by Mr Li Chong (Deputy General Director, Department of African Affairs, Ministry of Foreign Affairs, PRC) and was followed by a speech given by Justice Luo Dongchuan (Vice President, Supreme People's Court of China) and which focused on an 'Innovating Mechanism for Settling International Commercial Disputes and Facilitating a Rule of Law Environment for Doing Business'.