Mauritius-Turkey Business Meet: the unfolding of productive B2B meetings
Business updates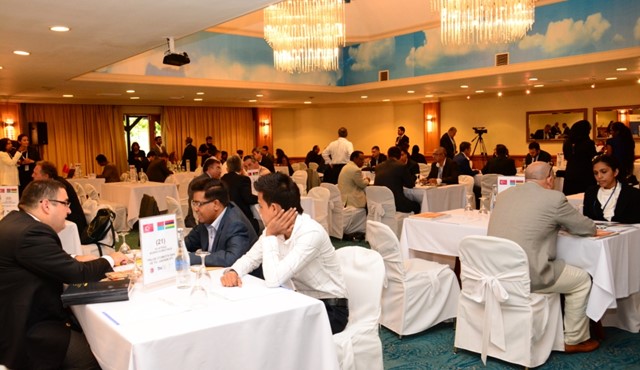 Mauritius-Turkey Business Meet: the unfolding of productive B2B meetings
Cooperation
06 Jun 2016
Both Mauritian and Turkish business people seized the opportunities to give a new boost to their businesses during the B2B organized on Friday 3 June 2016 at Maritim Hotel. The active participation of Mauritian entrepreneurs during the whole day made the event a success.

During the meetings, members of the Turkish Exporters Assembly (TIM) presented their lines of business and their products to Mauritian counterparts and business contacts were concretized.

In his address, the Mr. Azim Currimjee, President of the MCCI, encouraged business people from both parties to exploit the benefits that avail to themselves through the FTA and other MoUs signed between public and private sectors institution of both Turkey and Mauritius. He also stated that through the development in air connections of Mauritius, business scopes would be further accessible to business people.

The head of the Turkish delegation, Mr. Recep Burak Sertba?, stated that they were on Business Tour in the region and they are glad to have chosen Mauritius as one of their destinations. He was persuaded that this B2B would further strengthen trade relations between Mauritius and Turkey.

Mr. Bashir Currimjee, Honorary Consul General of the Republic of Turkey, was also present on this occasion and expressed his satisfaction regarding the development of the Mauritius-Turkey collaboration over the years and urged members of both business communities to take advantage of these existing links.

The event saw the participation of around 50 members of the business community.