Business updates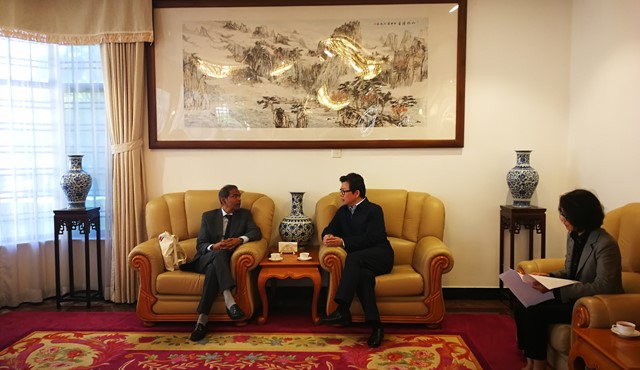 MCCI meets with the Ambassador of People's Republic of China to Mauritius
Cooperation
06 Aug 2019
MCCI meets with the Ambassador of People's Republic of China to Mauritius
A meeting was held between the Secretary General of the MCCI, Mr. Barlen Pillay, and the Ambassador Extraordinary and Plenipotentiary of the People's Republic of China to Mauritius, H.E. Mr Sun Gongyi, on Friday 2nd August 2019 at the seat of the Embassy of the People's Republic of China in Mauritius, Rose-Hill, to discuss the strengthening of economic ties between the two countries.
Discussions focused on the different avenues of cooperation that can be exploited between MCCI and CCPIT further to the visit of the President Gao Yan to Mauritius in July. HE Mr. Sun stated that the embassy will extend all necessary support to further deepen the relationship between the two business organizations.
On his part, Mr. Barlen Pillay expressed his satisfaction on the increased interest from Chinese operators to consider Mauritius as a business-friendly venue and a dynamic platform to undertake business in Africa. He underlined the strong network MCCI has developed over the years with African private sector organisations which include the SADC Business Forum and the COMESA Business Council which is chaired by the MCCI President, Mr. Marday Venkatsamy. He invited Chinese operators to have recourse to MCCI business facilitation services.
He also expressed the wish that meetings between business operators be held both in Mauritius and China to explore the several business opportunities that will be available after the adoption of the Free trade Agreement between the two countries.