Memorandum of Understanding signed between the MCCI and the Chamber of Commerce and Industry of Estonia
Business updates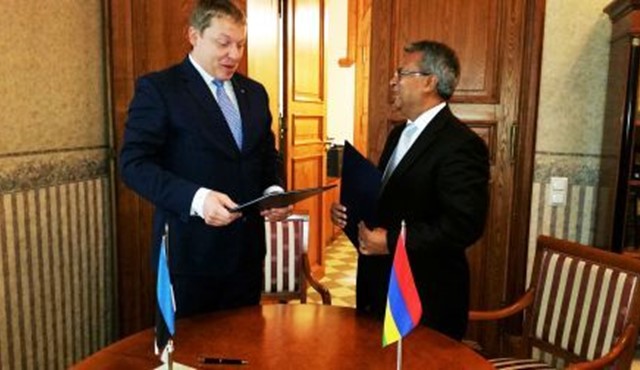 Memorandum of Understanding signed between the MCCI and the Chamber of Commerce and Industry of Estonia
Cooperation
02 Oct 2015
A Memorandum of Understanding was signed between the MCCI and the Chamber of Commerce and Industry of Estonia on 30 September 2015 in Estonia. The objective of the MoU is to promote trade and economic relations between the two countries and especially to enhance business collaboration in the ICT sector.
Mr. Mait Palts, Director General of Chamber of Commerce of Estonia and the Secretary-General of the MCCI, Mr. Raju Jaddoo are of the view that this collaboration will set the beginning of a promising business venture between business communities of both countries.
The meeting took place in the context of the mission of a high-level public/private sector delegation, led by the Minister of Technology, Communication and Innovation, Hon. Sudarshan Bhadain to Estonia. The objectives of the mission are to increase awareness on Cyber Security and to develop cooperation between ICT companies for setting up e-services in Mauritius, among others.