MoU Signing between MCCI-CCPIT: Consolidating economic cooperation between the two countries
Business updates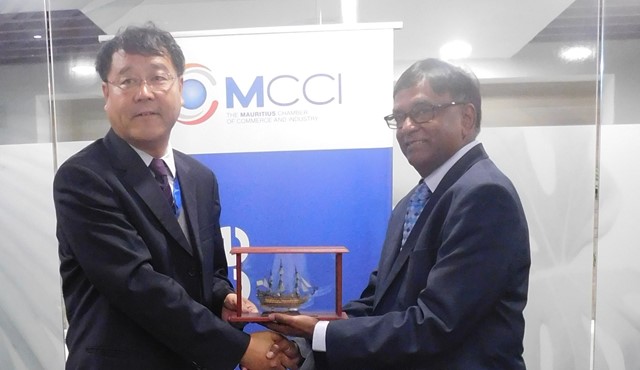 MoU Signing between MCCI-CCPIT: Consolidating economic cooperation between the two countries
Cooperation
13 Nov 2017
The MCCI and the China Council for the Promotion of International Trade expressed their wish for a stronger collaboration and shared the commitment to create more opportunities of trade and investment for businesses in both countries by signing two Memoranda of Understanding today, Monday 13 November 2017 at the seat of the MCCI, Port Louis.
A Chinese delegation from CCPIT, led by the Vice-Chairman, Mr. Zhang Wei, was welcomed at the MCCI for an half-day workshop on the different means the MCCI can support the Chinese operators in Mauritius.
In his welcome address, Mr. Marday Venkatasamy, Vice-President of the MCCI, underlined the different benefits that Chinese operators can avail to themselves by using Mauritius as a hub to tap the African Market. He also stated the longstanding business relationship between Mauritius and China and expressed his confidence that this collaboration will be further strengthened by the signing of the MoUs.
The signatory from the MCCI side was Mr. Raju Jaddoo, who also delivered a presentation on the different business enablers that the MCCI provides to business operators, while Mr. Zhang Wei, ratified the MoU for the CCPIT side. An MoU was also signed by the MCCI and CCPIT Shandong Sub-Council in the same context. 
Legend: Mr. Marday Venkatasamy, Vice-President of the MCCI, offering a gift to the Vice-Chairman of CCPIT, Mr. Zhang Wei.