Business updates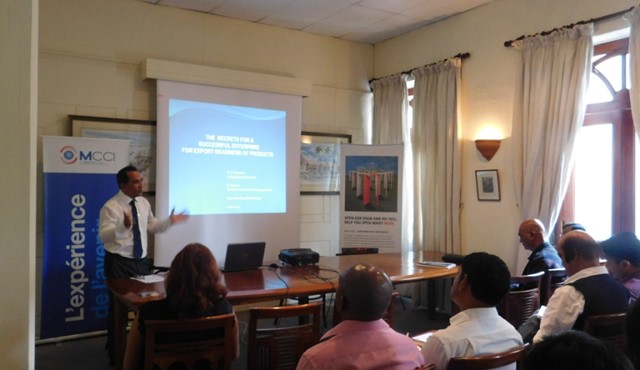 Workshop on 'The importance of Standards and Certification for SMEs to enhance Competitivity and Market Access'
SME Marketplace
18 Apr 2016
The MCCI organized a half-day workshop on "The importance of Standards and Certification for SMEs to enhance Competitivity and Market Access" on Friday 15th April 2016 in the conference room of the MCCI in Port Louis. The workshop is the first of a series of workshop that will take place this year under the project MCCI SME Marketplace.
For this event, the MCCI had invited the Mauritius Standards Bureau and SGS (Mauritius) Ltd  to address SMEs on the sub- themes:

• "The  Secrets of a successful Enterprise for Export readiness"

• "Global excellence & local expertise for SMEs' certification".

 respectively.
The MSB explained to participants how certifying products and respecting standards  could be potential gateways for export while  SGS Mauritius Ltd spoke about the importance of certifying management systems and processes. The first MCCI SME Marketplace workshop gathered around 40 SMEs participants  from various sectors including Agro, ICT, Cosmetics, Food and distribution.