Visit of the Ambassador of Ethiopia to the MCCI
Business updates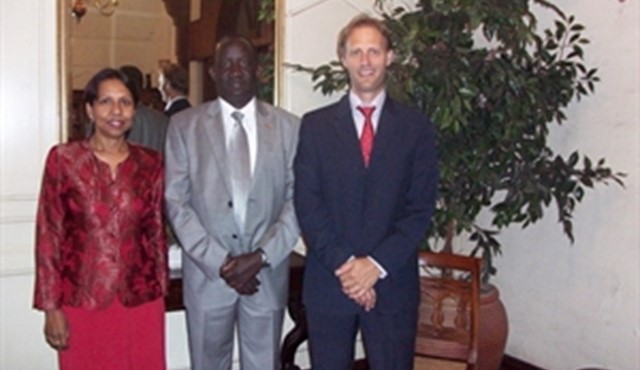 Visit of the Ambassador of Ethiopia to the MCCI
MCCI
17 Oct 2014
H. E. Dr. Koang Tutlam Dung, Ambassador of the Federal Republic of Ethiopia to Mauritius with residence in Zimbabwe, paid a courtesy visit to the President of the MCCI, Mr. Sébastien Mamet on 16 October 2014.
During the meeting, Dr. Koang Tutlam Dung spoke about the avenues of cooperation between Mauritius and Ethiopia.  He said that the government of Ethiopia is pushing to diversify into manufacturing, textiles and energy generation.  He added that Ethiopia is attracting more and more significant foreign investment in textile, leather, agro industry and manufacturing.
The Ambassador expressed the wish that there is further collaboration between the business people of both countries.
Mr. Sébastien Mamet said there should be more awareness of the opportunities offered by each country.
He was of the view that there should be more exchanges between the private sector organizations of Ethiopia and Mauritius.
Photo: From left to right: Ms. Faeeza Ibrahimsah, H. E. Dr. Koang Tutlam Dung and Mr. Sébastien Mamet