Awareness Session with Medical Laboratories
Business updates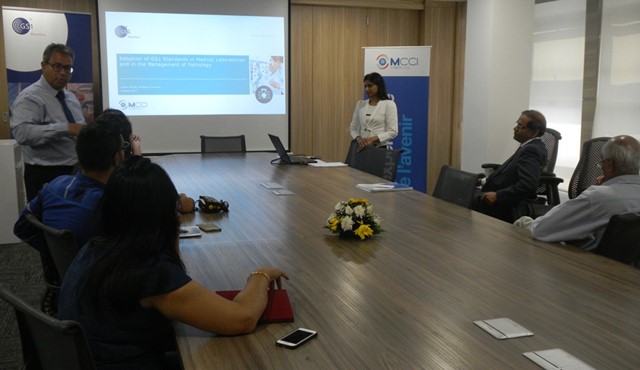 GS1 Mauritius: Awareness Session with Medical Laboratories
GS1
27 Oct 2017
GS1 Mauritius in collaboration with the Mauritius Chamber of Commerce and Industry organised an awareness session on 25th October 2017 at MCCI to sensitise operators in medical laboratories on the adoption of GS1 Standards in laboratories and in the management of pathology.
The participants were welcomed by Mr. Raju Jaddoo, Secretary General of the MCCI, who underlined how GS1 Standards have been successfully adopted by major healthcare providers in the world, namely the National Health Service, as well as in new areas such as in genomic medicine.
During the presentation delivered by Ms. Fazlee Dhuny, participants were apprised on how GS1 Standards enable the identification of all the elements in the pathology process from samples, patients and staff.  The various benefits including cost efficiencies, error-reduction as well as traceability of samples were elaborated.
Participants also had the opportunity to discover how GS1 collaborates with international organisations namely International Organisation for Standardisation (ISO), International Society of Blood Transfusion (ISBT) amongst others to advance global automatic identification standards in healthcare. 
During the interactive session, numerous areas of collaboration were identified.