CBC and TDB partner for the Validation of the Regional Digital Integrated Common Payment Policy for MSMEs
Business updates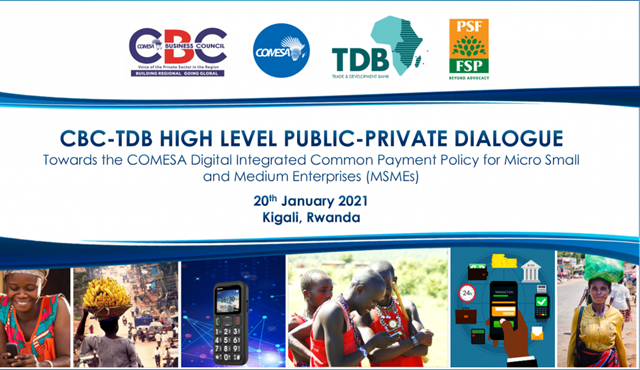 CBC and TDB partner for the Validation of the Regional Digital Integrated Common Payment Policy for MSMEs
Regional Cooperation
25 Jan 2021
"The digital payment system platform dividend for COMESA, and Africa at large, can be enormous with potential gains in growth of regional trade (sourcing and supply) which is currently below 20%. But turning this vast potential into reality will require the collective efforts of our governments, the private sector, and development partners," said Mr. Marday Venkatasamy, Chairman of the COMESA Business Council (CBC), in his opening statement at the COMESA Digital Financial Inclusion High Level Public-Private Dialogue. 
CBC in partnership with the Eastern and Southern African Trade and Development Bank (TDB) convened the High Level Public-Private Dialogue, a hybrid event, under the theme, "Towards the COMESA Digital Integrated Common Payment Policy for Micro Small and Medium-sized Enterprises (MSMEs)'' on Wednesday 20th January 2021.
CBC has been implementing the Digital Financial Inclusion Program to support the design, development and deployment of an integrated digital financial services infrastructure that is low-cost, interoperable and fraud resistant, that serves micro, small and medium-sized enterprises, particularly women and youth, at the bottom of the financial pyramid.
Read full article here.