Courtesy visit of the President of the Indian Business Council to the MCCI
Business updates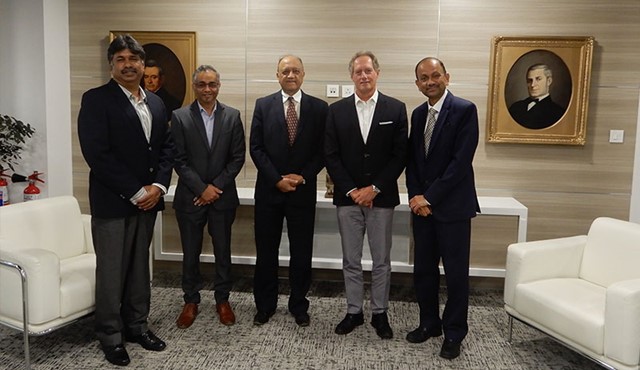 Courtesy visit of the President of the Indian Business Council to the MCCI
07 Oct 2021

The President of the Indian Business Council, Mr. Tony Malik, paid a courtesy visit to the President and Secretary-General of the MCCI, Mr Guillaume Hugnin and Dr Yousouf Ismaël respectively, on 7 October 2021.
He was accompanied by Vice President Mr. Navin Charan and the Assistant Secretary, Dr. Suresh Nanda.

During the course of the meeting, it was felt that both organizations can collaborate on a number of projects, given that both share the same objectives which include the consolidation of ties between the business communities of both countries.

The representatives of the MCCI highlighted the long-standing relations which exist between the private sector organizations of both countries, namely with the Federation of Indian Chambers of Commerce and Industry and the Confederation of Indian Industry.

The aim of the Indian Business Council (IBC), launched in August 2021, is "connecting economies through business", with an objective of improving trade and business relationship between Mauritius and India and using Mauritius as a hub for doing business in Africa.

Both parties agreed that they should develop joint projects which will benefit members of the business community.

Legend: From left to right: Mr. Navin Charan, Dr Yousouf Ismaël, Mr. Tony Malik,Mr.Guillaume Hugnin and Dr Suresh Nanda