Courtesy visit of the President of the MCCI and of the Vice-President of the AfBC to the Prime Minister
Business updates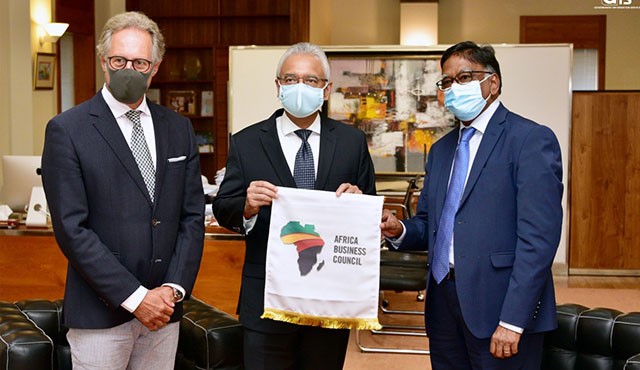 Courtesy visit of the President of the MCCI and of the Vice-President of the AfBC to the Prime Minister
20 Jan 2022

The President of the Mauritius Chamber of Commerce & Industry (MCCI), Mr. Guillaume Hugnin, and the Vice-President of the Africa Business Council (AfBC) and the chairperson of the COMESA Business Council, Mr. Marday Venkatasamy, paid a courtesy visit to the Prime Minister, Hon. Pravind Kumar Jugnauth on Thursday 20 January 2022.

The Prime Minister was briefed about the commemoration of the Africa Business Day, launched to create awareness and to promote business as a major component for the development of Africa and which is celebrated on 20 January, throughout the whole continent. Hon. Pravind Kumar Jugnauth was also informed about the signature of a Memorandum of Understanding for the MCCI to house the AfBC regional office for Southern Africa and the Indian Ocean.

For more information, please click here.