Dr Yousouf Ismaël officiellement secrétaire général de la MCCI
Business updates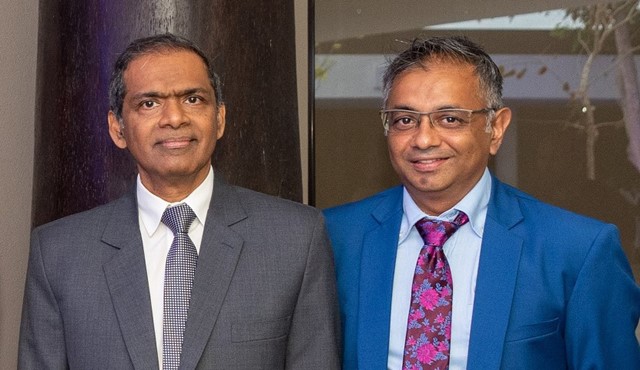 Dr Yousouf Ismaël officiellement secrétaire général de la MCCI
MCCI
01 Apr 2020
La Mauritius Chamber of Commerce and Industry (MCCI) accueille, à partir de ce mercredi 1er avril, son nouveau secrétaire général en la personne du Dr Yousouf Ismaël. Il succède ainsi à Barlen Pillay, qui a pris une retraite bien méritée, le 31 mars, après 25 ans de bons et loyaux services au sein de l'organisme. Nommé secrétaire général désigné depuis le 8 janvier dernier, Dr Ismaël travaille d'arrache-pied sur plusieurs fronts depuis le début de l'épidémie dans le pays, notamment sur le plan de soutien aux entreprises, les permis de circulation pendant le confinement et la réouverture des supermarchés, entre autres.
« En tant que passerelle incontournable du monde des affaires, la MCCI se voit solliciter de part et d'autre, notamment pour les diverses négociations et décisions qui sont prises en cette période de crise sanitaire. Yousouf compte une riche expérience, locale comme internationale, et je suis convaincu que son expertise des divers secteurs économiques aidera la MCCI à atteindre de nouveaux sommets. Je tiens aussi à remercier Barlen Pillay qui a mis tous ses efforts et ses talents au service de la Chambre, durant 25 ans. Il a su relever de grands défis et a mené à bien de nombreux projets, dont la mise sur pied du MCCI Arbitration and Mediation Center. Nous lui souhaitons une belle retraite en France, où il s'est installé avec sa famille », déclare Marday Venkatasamy, président de la MCCI.
Yousouf Ismaël s'engage, pour sa part, à continuer à soutenir les intérêts de ses opérateurs et à travailler pour le développement économique de Maurice, surtout en cette période de crise sanitaire avec la pandémie du Coronavirus. « Je mesure déjà l'ampleur de la tâche qui est désormais mienne, ainsi que la responsabilité que nous avons envers les acteurs économiques locaux. La MCCI est à l'initiative de plusieurs rencontres avec les opérateurs privés, visant à sensibiliser la population à l'achat responsable, à la mise en place d'un système d'achats en ligne de vivres et à l'approvisionnement de produits de première nécessité. Je remercie le secteur privé pour leur solidarité et nous continuons à mobiliser tous nos efforts pour la mise en place de mesures sanitaires pour une ouverture sereine des supermarchés le jeudi 2 avril 2020, comme annoncé par le Premier ministre », conclut le nouveau secrétaire général.
Légende: Barlen Pillay, ancien secrétaire général de la MCCI au côté de Yousouf Ismaël lors du dîner de Gala des 170 ans de l'institution le 26 février dernier.