Exploring the COMESA Market – Bringing Business to the Table
Business updates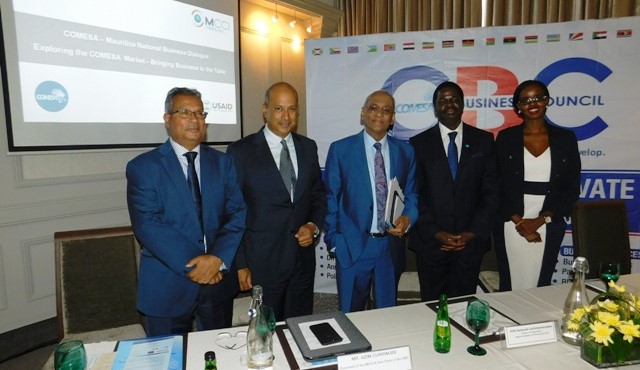 Exploring the COMESA Market – Bringing Business to the Table
Regional Cooperation
17 Mar 2017
The Mauritius-COMESA National Business Dialogue under the theme: "Exploring the COMESA Market – Bringing Business to the Table", organised jointly by the MCCI and the COMESA Business Council, was held today 17th March 2017 at the Labourdonnais Waterfront Hotel, Caudan, Port Louis.
The workshop forms part of a series of activities conducted by the COMESA Business Council to sensitize members of the business community on a number of issues and developments taking place at regional level.
The objective of the seminar was to increase awareness and to engage on the constraints in doing business within the COMESA region. This business dialogue also allowed business operators to explore avenues for national platforms of engagement between the public and private sectors to thereby facilitate trade and economic integration in the region.
Legend: from left to right: Mr. Raju Jaddoo, Secretary General, Mr. Azim Currimjee, President of the MCCI and Vice Chair of the CBC, Hon. Seetanah Lutchmeenaraidoo, Minister of Foreign Affairs, Regional Integration and International Trade, Dr. Francis Mangeni, Director of Trade, Customs and Monetary Affairs, and Ms. Sandra Uwera, CBC-Chief Executive.