Farewell visit of the High Commissioner of Bangladesh to the MCCI
Business updates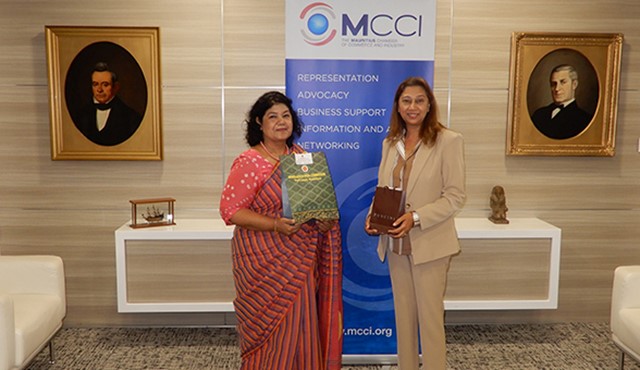 Farewell visit of the High Commissioner of Bangladesh to the MCCI
06 Sep 2023

H.E. Ms. Rezina Ahmed, High Commissioner of Bangladesh to Mauritius, paid a farewell visit to Mrs. Namita Jagarnath Hardowar and to Dr Drishtysingh Ramdenee, President and Secretary-General of the MCCI respectively on 6 September 2023. She was accompanied by Mr. Zakaria Bin Amjad, First Secretary.

H.E. Ms. Rezina Ahmed expressed her satisfaction regarding the close collaboration between the High Commission and the MCCI during her term of office. The High Commission has acted as a facilitator between the MCCI and the Federation of the Bangladesh Chambers of Commerce and Industry (FBCCI). Indeed, both organisations have agreed to sign a Memorandum of Understanding to consolidate their ties with a view to promoting trade and investment between the business communities of both countries.

The President of the MCCI thanked the High Commissioner for her collaboration and said that there are opportunities which can be tapped in the pharmaceutical, financial and agricultural sectors.

Both parties were of the view that a Mauritius-Bangladesh business event could be organized either in Bangladesh or in Mauritius so that members of the business communities can share information and know-how.