Increase of 8.5 percent in the Business Confidence Indicator
Business updates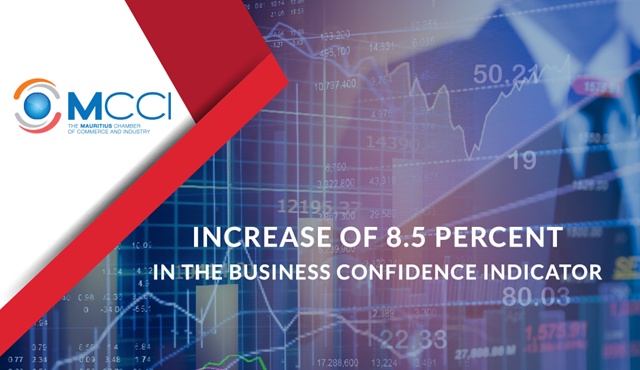 Increase of 8.5 percent in the Business Confidence Indicator
Economy
25 Jan 2018
 The MCCI released its Business Confidence Indicator for the 4th quarter of 2017 on Thursday 25 January 2018.
The index registered an increase of 8.5 percent (9.7 percentage points) to settle at 123.0 points, its highest level reached since its launch in 2010.
At the international level, the ifo World Economic Climate improved markedly in the fourth quarter of 2017, with the indicator rising to + 17.1 points, its highest level since 2011.
At the sectoral level, we notice continued general increases in confidence levels in the fourth quarter of 2017. The commerce sector recorded the largest increase in the sectoral indicator, at 9.4 percent. For the manufacturing sector, the index rose by 9.3 percent whilst for the commerce sector, we notice a slightly lower increase in the confidence indicator by 6.2  percent.
An analysis based on the size of the workforce shows that the business confidence indices are rising, irrespective of the size of companies. Medium sized companies with between 20 and 250 employees show higher confidence than smaller and larger sized companies. Similar to the second and third quarters of 2017, the synthetic business climate indicators improved for all business categories.
 Based on the analysis of the country's economic performance over the 2017, in a hypothesis that such a dynamic is maintained over the next quarter, we estimate that economic growth would be of 4 percent for 2017 and 4.4 percent in 2018, ceteris paribus.