London Roadshow: Presentation of New MARC Rules
Business updates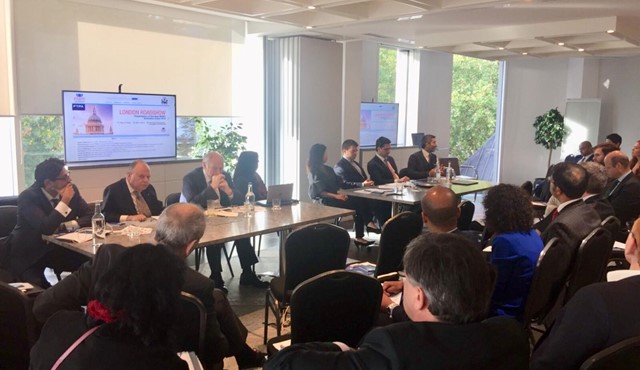 MARC Roadshow: Presentation of New MARC Rules
MARC
16 Oct 2018
The first MARC Roadshow was organised on Friday 12 October 2018 in London and showcased the latest version of the MARC Arbitration Rules revised in 2018.
Mr. Neil Kaplan QC, President of the MARC Court, spoke about the MARC as an arbitration centre, including its structure, its services, its caseload and its future events and future steps to become a leading institution in Africa. A brief introduction was given by Ms. Dipna Gunnoo, Head of MARC, about the background of MARC and details about the legal and judicial system in Mauritius.
Lord Neuberger, Member of the MARC Court, shared his views on the judicial approach taken during and following arbitration cases and also shared his positive experience and feedback about Mauritius, following his MARC seminar in April 2018. The development of international arbitration in Mauritius and its steps to become an attractive venue for arbitration were presented by Mr. Duncan Bagshaw, Member of the MARC Advisory Board.
Ms. Cheng-Yee Khong, member of the MARC Court, gave details of the main features and innovations of the new MARC Arbitration Rules. Dr. Jamsheed Peeroo, member of the MARC Advisory Board, explained the relevance of the Mauritian legislation and the MARC Arbitration Rules regarding the use of international arbitration in corporate disputes. Dr. Jalal El Ahdab, Member of the MARC Advisory Board, closed this event by sharing his views on the main aspects which contribute to the success of an international arbitration center. 
This event was hosted by FTPA (UK) LLP and was moderated by Mr. Rajeev Sharma Fokeer, Member of the MARC Advisory Board.