MARC signs Cooperation Agreement with the Shenzhen Court of International Arbitration
Business updates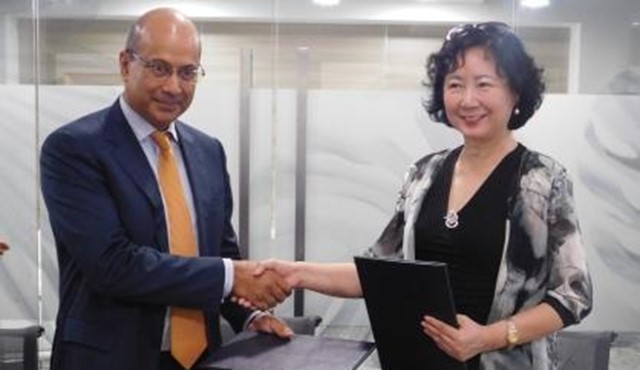 MARC signs Cooperation Agreement with the Shenzhen Court of International Arbitration
MARC
22 Nov 2017
 The MCCI Arbitration and Mediation Center (MARC) has signed a 'Cooperation Agreement' with the Shenzhen Court of International Arbitration (SCIA). 
The Agreement was officially signed on Tuesday 21 November 2017 by Mr. Azim Currimjee, President of the MCCI and Ms. Xiaohui Guo, Council Member of the SCIA, in the presence of Mr. Rajesh Sharma Ramloll, Deputy Solicitor-General and Mr. Jacques Tsang Man Kin, President of the Mauritius Bar Council. A delegation from the SCIA, members of the Mauritian judiciary and of the legal and business community also attended the event, which was held at the seat of MCCI in Port Louis.


The Deputy Solicitor-General, Mr. Ramloll, highlighted in his address the importance of the Cooperation Agreement as the cornerstone of a sound China-Africa dispute resolution mechanism and expressed his appreciation as to the role played by the MCCI Arbitration and Mediation Center throughout the past two decades of its existence towards the development of arbitration in Mauritius. The President of the MCCI, Mr. Currimjee, highlighted the long-standing friendship between Mauritius and China, and the significance of mutually building a China-Africa Dispute Resolution Mechanism towards creating the right conditions for supporting China-Africa trade and investment. By using institutional arbitration for resolving trade disputes, business operators can benefit from fair, confidential, expeditious, risk-mitigating and well-structured procedures which can contribute towards building more confidence and predictability in the development of trade links between China and Africa, he said. Prof. Peter Malanczuk, Council Member of the SCIA also delivered a keynote speech on behalf of SCIA and made a presentation on the SCIA's services and activities.
The SCIA was established in 1983 in the Shenzhen Special Economic Zone. It is the first arbitration institution in Mainland China to include foreign professionals on its panel of arbitrators. It has sophisticated hearing venues at its seat in Shenzhen and handles hundreds of arbitration cases annually. The Cooperation Agreement signed between MARC and SCIA will focus on promoting arbitration and other ADR methods in settling disputes arising from China-African transactions, training and mutual assistance for provision of hearing room and other arbitration support facilities.