MARC Welcomes Lord Neuberger for a Seminar on 'Ethics in International Arbitration'
Business updates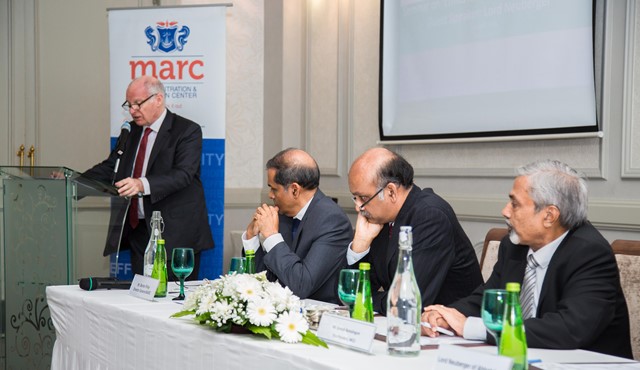 MARC Welcomes Lord Neuberger for a Seminar on 'Ethics in International Arbitration'
MARC
11 Apr 2018
On 10 April 2018, MARC was honoured to welcome Lord Neuberger, Baron of Abbotsbury, for a Seminar on 'Ethics in International Arbitration'.
On the occasion, Lord Neuberger delivered a thought provoking and in-depth 45 minutes lecture on the topic of ethical issues in international arbitration, covering various themes such as the ethical implications of the differences between judges and arbitrators, the issue of conflicted and biased arbitrators, ethical issues for party lawyers and ethical issues surrounding third party funding. Lord Neuberger served as President of the UK Supreme Court and the senior member of the Judicial Committee of the Privy Council from October 2012 until his retirement in September 2017. He is currently a Non-Permanent Judge of the Hong Kong Court of Final Appeal and a Judge in the Singapore International Commercial Court, and practises as an arbitrator.
The lecture was followed by an interactive Q&A session during which Lord Neuberger shared generously of his wealth of expertise both as a judge and as an arbitrator.
Mr Rajesh Sharma Ramloll, Deputy Solicitor General of Mauritius and Mr Ganesh Ramalingum, Vice-President of the MCCI also graced the event by their presence. The event was moderated by Mr. Barlen Pillay, Director-General of MARC and was well attended by members of the legal and judicial profession, including Former Chief Justice YKJ Bernard Yeung Sik Yuen and Mrs. Ah Foon Chui Yew Cheong, Chair of the Institute for Judicial and Legal Studies and Former Puisne Judge.