MCCI-MIoD : Webinaire sur la médiation et l'arbitrage
Business updates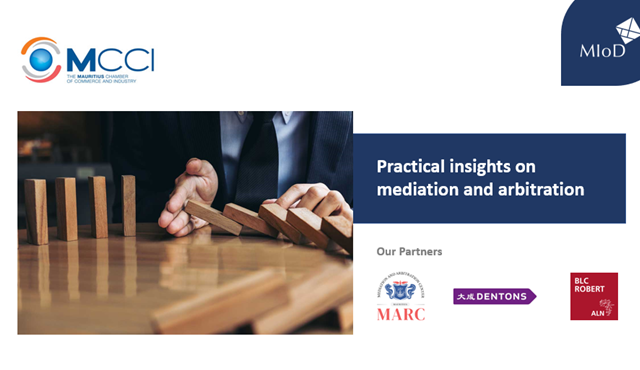 MCCI-MIoD : Webinaire sur la médiation et l'arbitrage
Arbitration
16 Jul 2021
'Sensibiliser les opérateurs économiques à la médiation et à l'arbitrage', tel était l'objectif du webinaire organisé le 15 juillet 2021 conjointement par la Mauritius Institute of Directors (MIoD) et la Mauritius Chamber of Commerce and Industry (MCCI).
Dans son discours d'ouverture, Guillaume Hugnin, Président de la MCCI et Directeur de la Mediation and Arbitration Center (MARC) a parlé de l'importance de la médiation et de l'arbitrage dans le domaine commercial. Il a aussi rappelé comment la MCCI a œuvré pour que Maurice devienne un centre d'arbitrage international.
Les intervenants du webinaire, notamment Rama Appadoo, Greffier de MARC, Priscilla Balgobin-Bhoyrul, Co-fondatrice de Dentons (Maurice) LLP et Mushtaq Namdarkhan, Partenaire de BLC Robert &Associates, ont mis en avant les avantages que Maurice offre en tant que centre d'arbitrage international. Ils ont aussi parlé de l'importance de l'arbitrage et de la médiation vu des développements majeurs ont lieu dans le secteur du commerce international et dans le secteurs des services.
La CEO de la MIoD, Sheila Ujoodha se dit satisfaite de cette collaboration en rappelant un des objectifs communs de la MIoD et la MCCI, qui est de servir et de promouvoir les intérêts de la communauté des affaires:« Nous sommes extrêmement enthousiastes de collaborer avec la MCCI pour ce premier webinaire autour de la médiation et de l'arbitrage. Il était important pour le MIoD de participer à cette discussion, permettant aux opérateurs économiques de s'appuyer sur des méthodes efficaces et souples pour gérer des conflits commerciaux, tout en échangeant sur les méthodes alternatives de règlements de litiges, et cela avec la participation de nos partenaires."dit-elle.
Une cinquantaine de participants représentant le domaine légal, l'industrie et le commerce ont assisté au webinaire.