MCCI welcomes Hon. Tony Smith MP, Speaker of the House of Representatives, Parliament of the Commonwealth of Australia
Business updates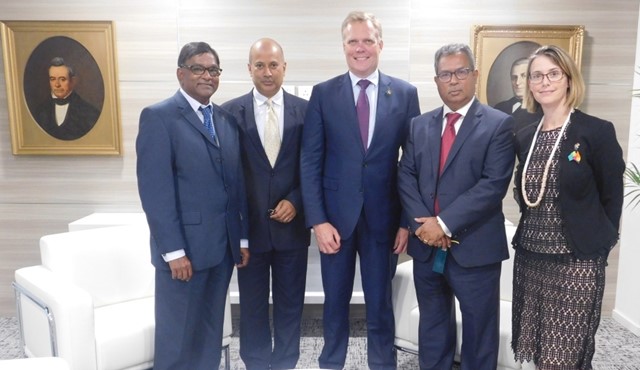 MCCI welcomes Hon. Tony Smith MP, Speaker of the House of Representatives, Parliament of the Commonwealth of Australia
MCCI
12 Jan 2018
A roundtable discussion with Hon. Tony Smith MP, Speaker of the House of Representatives, Parliament of the Commonwealth of Australia, was held at the MCCI today 12th January 2018 at seat of the MCCI.
The objective of the roundtable was to promote Mauritius as a Business destination and hub for Africa. In his address, Mr. Azim Currimjee, President of the MCCI, lauded the determination of Australia for its commitment and strong engagement for regional development. He also underlined the longstanding cooperation that exists between the MCCI and the Chamber of Commerce of Western Australia since 1995, which was at a very opportune time as when Australia had initiated its 'Look West'' strategy and had started focus its attention on Africa.
Hon. Tony Smith MP expressed the wish for further collaboration between the two countries and highlighted the laudable progress of Mauritius, from a mono-crop economy to a well-diversified service-oriented economic model. He also underlined the potential of Mauritius to act as a gateway to Africa.
The speaker of Australia was accompanied by HE Ms. Jenny Dee, Australia's High Commissioner to Mauritius, Mr. David Elder, Clerk of the House of Representatives, Ms. Claudine Wedgwood-Gills, and Mr. Stuart Woodley, Advisers to the Speaker.