Meeting with representatives of the OECD
Business updates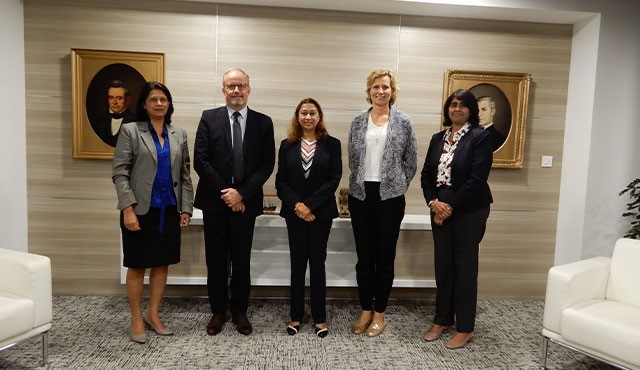 Meeting with representatives of the OECD
27 Jan 2023

The President of the MCCI, Mrs Namita Jagarnath Hardowar, met with Mr. Stephen Thomsen, Head of Investment Policy Reviews and Ms. Froukje Boele, Head of Public Policy & Regional Programmes, of the Organisation for Economic Co-operation and Development (OECD) on 26 January 2023.

The objective of the meeting was to discuss on the process for the Investment Policy Review of Mauritius which will be carried out by the OECD team in the context of the objective of the Government of Mauritius to seek adherence to the OECD's Investment Declaration.
Mr. Stephen Thomsen and Ms Froukie Boele were on mission in Mauritius from 24 to 27 January 2023 to kick off the process. Meetings were held with stakeholders from the public and private sectors.

Mrs Namita Jagarnath Hardowar and the OECD representatives expressed satisfaction regarding discussions held and looked forward to collaborating closely for the implementation of the project.

Caption:
From Left to Right: Mrs Rooma Narrainen, Head of Advocacy, MCCI, Mr. Stephen Thomsen, Mrs Namita Jagarnath-Hardowar, Ms Froukie Boele and Mrs Sarada Moothoosamy, Officer-in-Charge and Head of Finance and Management, MCCI.