MEMA 2022 Regional Forum: A Business Day to promote GS1 Standards
Business updates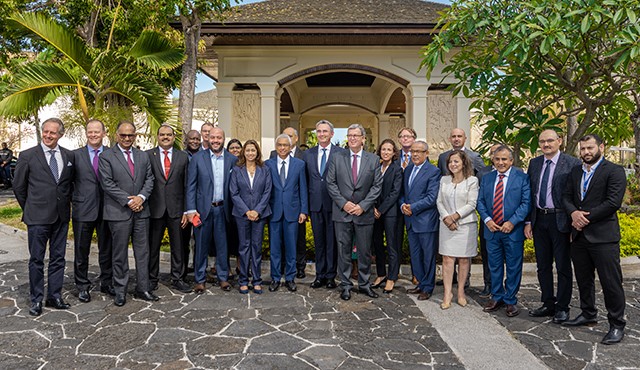 MEMA 2022 Regional Forum: A Business Day to promote GS1 Standards
14 Sep 2022

For the first time, Mauritius is hosting the GS1 Middle East, Mediterranean and Africa (MEMA) Regional Forum 2022 from Monday the 12th to Thursday the 15th of September 2022, at Hilton Mauritius Resort & Spa, Wolmar, Flic-en-Flac.

In the context of this Regional Forum, a Business Day was organised on Wednesday 14th of September, with the aim of promoting GS1 standards as innovative business solution. The Business Day is an initiative of the Mauritius Chamber of Commerce and Industry (MCCI), of which GS1 Mauritius, is a Business Unit.

The Prime Minister (PM) of the Republic of Mauritius, Hon. Pravind Kumar Jugnauth participated in the opening ceremony as the Guest of Honour, and delivered a speech.

The PM laid emphasis on the numerous ways through which GS1 standards facilitate global trade. "The development of barcodes is an important milestone. It has radically shaped the trading landscape by setting the pace for global and digitalised commerce," he stated.

Mr Eric Corson, President of GS1 Mauritius, added that operators from different economic sectors are encouraged to adopt the GS1 Global Traceability Standards (GTS). "It is all about sharing information quickly in order to know the source of ingredients/components and products, where they have been, where they are going, and when they reach their final destination," he explained.

For his part, Mr Renaud de Barbuat, President & Chief Executive Officer of the GS1 Global Office pointed out that "there are many examples around the world where governments are using or planning to use GS1 standards to improve their customs and border protection or their tax collection processes."

The Minister of Foreign Affairs, Regional Integration and International Trade, Hon. Alan Ganoo, was also present on this occasion.

The function was also attended by some 20 high officials of GS1 Member Organisations from the MEMA region, stakeholders from the private sector and government officials.