Courtesy visit of the Secretary-General of COMESA to the MCCI
Business updates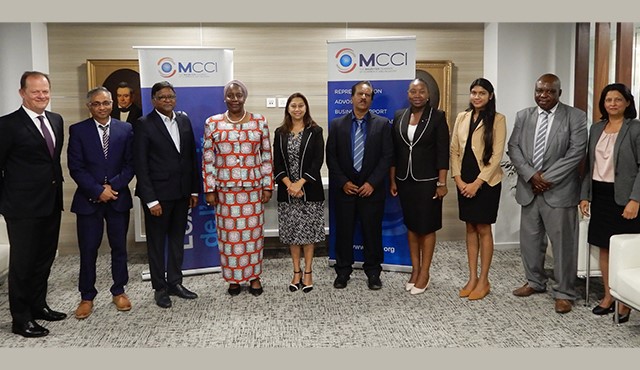 Courtesy visit of the Secretary-General of COMESA to the MCCI
23 Aug 2022

(From left to right): Mr Charles Harel; Dr Yousouf Ismaël; Mr Marday Venketasamy; Her Excellency Chileshe Mpundu Kapwepwe; Mrs Namita Jagarnath Hardowar; Dr. Dev Anand Haman, Assistant Secretary-General in charge of Administration and Finance (COMESA); Ms Maluba Sikopo Sinyambo, Executive Support Officer (COMESA); Ms Kreshma Aubeeluck, Analyst (Cooperation), Ministry of Foreign Affairs, Regional Integration and International Trade; Mr Charles Chaitezvi, Trade Facilitation Programme Team Leader (COMESA); and Mrs Rooma Pillay-Narrainen, Head of Advocacy at the MCCI 

The Secretary-General of the Common Market for Eastern and Southern Africa (COMESA), Her Excellency, Chileshe Mpundu Kapwepwe, paid a courtesy call on the President of the MCCI, Mrs Namita Jagarnath Hardowar, the Vice-President, Mr Charles Harel and the Secretary-General, Dr Yousouf Ismaël, on Tuesday 23 August 2022. The President of the COMESA Business Council, Mr Marday Venketasamy, G.O.S.K., also attended the meeting.

Discussions focused on the consolidation of business relations among the COMESA members. It is to be noted that Mauritius imports from the COMESA region amounted to MUR 7.6 billion in 2021. Our main countries of imports included Seychelles (36%), Kenya (23%), Egypt (17%), Madagascar (15%), amongst others. Main products of imports in 2021 include frozen fish (mainly from Seychelles), cigarettes (from Kenya), cotton, vanilla beans (Madagascar), soya-bean oil (mainly from Egypt) amongst others.