Ministerial Conference on Maritime Security
Business updates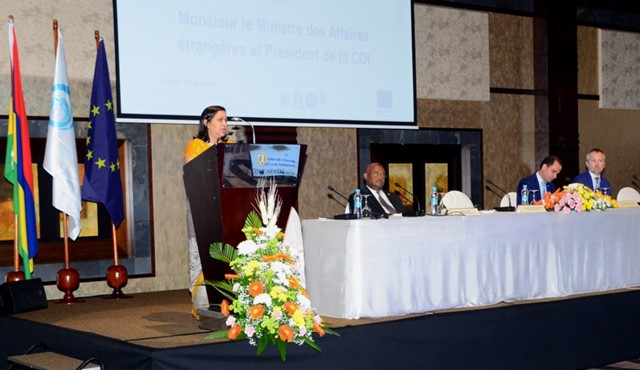 Securing the vast ocean areas for the economic and social development of the region.
Cooperation
27 Apr 2018
The meeting at Senior Officials level of the Indian Ocean Commission (IOC) Ministerial Conference on Maritime Security in the Western Indian Ocean opened on 26 April 2018 at the Intercontinental Resort in Balaclava.  The Ministerial Conference, co-hosted by the IOC with the support of the European Union (EU), has the objective of identifying priority actions in response to maritime transnational risks and crimes.
In her opening address, the Secretary for Foreign Affairs (SFA), Ambassador Mrs Usha C. Dwarka Canabady, said that maritime security is fully an international concern thus the need to sensitise people about the contribution that they can make in addressing this issue.  The idea, she said, is to look after maritime security based on a programme which is being developed and beyond that to list out priority actions that need to be taken in the region and then enlist the assistance of stakeholders to provide support on these actions.
 She further said that one of the outcomes of the Ministerial Conference would be to identify the focal points in countries that can come together very quickly at short notice and effectively implement those legislations as well international cooperation and coordination. 
For his part the Secretary General of the IOC, Mr Hamada Madi, termed maritime security as an essential element of global security of the indiaocéanie adding that the forthcoming ministerial conference will have to give a new boost to regional and international action for maritime security.
In his speech, the Chargé d'Affaires, EU Delegation, Mr Michal Golabek, observed that there is a mounting debate at international level on the maritime domain with special focus on risks and threats involved.  
The focus of the Ministerial conference will be on all maritime threats and crimes and the collective solutions needed to secure the vast ocean areas for the economic and social development of the region.
Source : GIS