Promoting Solar Innovations in Local Businesses
Business updates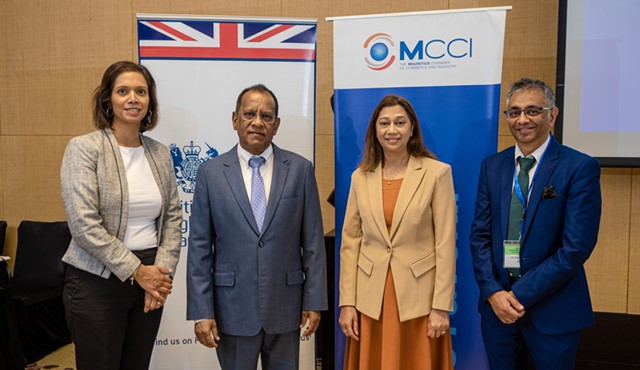 Promoting Solar Innovations in Local Businesses
Economy
05 Oct 2022

Caption:
From Left to Right: Her Excellency, Ms Charlotte Pierre; the Honourable Soomilduth Bholah; Mrs Namita Jagarnath-Hardowar, President of the MCCI and Dr Yousouf Ismaël, Secretary-General of the MCCI

The Mauritius Chamber of Commerce and Industry (MCCI), in partnership with the British High Commission, has organised on Wednesday 5 October 2022, a conference, entitled Supporting Solar Innovations in Local Businesses. This event, held at the Westin Turtle Bay Resort & Spa at Balaclava, has been organized as a follow up of the signing of a Memorandum of Understanding between the two institutions in 2020.

The objective is to sensitise Mauritian Small and Medium Enterprises (SMEs) on the use of photovoltaic (PV) panels as a way to generate electricity for their businesses and to reduce their operational costs in the long run. The conference saw the participation of renewable energy experts and energy solution providers, academics, local businesses, and financial institutions, amongst others.

Mrs Namita Jagarnath-Hardowar, president of the MCCI, highlighted that over and above the key role that SMEs play in the overall economic development of the country, they also bring significant contribution to global industrial pollution. She also expressed her satisfaction regarding the collaboration between the MCCI and the British High Commission for the promotion of solar innovations in the SME sector.

The Honourable Soomilduth Bholah, Minister of Industrial Development, SMEs and Cooperatives, stated that solar modules on the roof can generate electricity, without any further input and additional costs, for up to 30 years. He further made an appeal to local and international financial institutions and development partners "to see how best they can put their financial instruments and technical expertise at the service of SMEs to allow them succeed in their energy transition with minimal hassles."

Her Excellency, Ms Charlotte Pierre, British High Commissioner to Mauritius, averred that the British government is proud to support the MCCI on its project aiming at sensitising enterprises about renewable energy. In November 2020, the British High Commission offered a financial aid to SMEs, in view of the installation of PV panels.
As part of this project, the MCCI had undertaken an assessment of the impact of COVID-19 on Mauritian SMEs and their respective cost competitiveness in October 2020. The report can be accessed here.