Business updates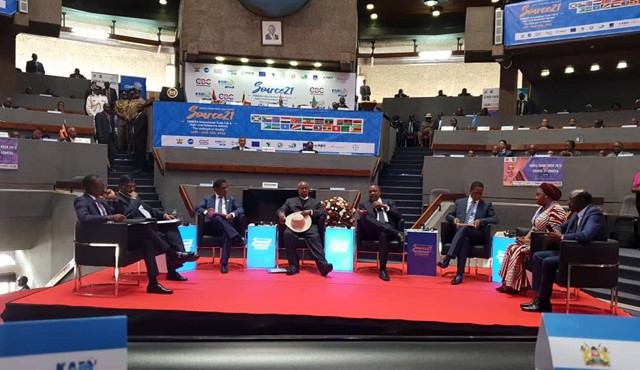 Source 21 Trade Fair and Business Summit kicks off in Nairobi
Regional Cooperation
17 Jul 2019
The Source 21 Common Market for Eastern and Southern Africa (COMESA) International Trade Fair and High-Level Business Summit, organized by the COMESA Business Council and hosted by the Government of Kenya in partnership with the Kenya Association of Manufacturers (KAM), has kicked off on Wednesday 17th July 2019 at Kenyatta International Convention Centre (KICC), Nairobi.

The event running under the theme "The Hallmark of Quality" brings together policymakers and the private sector from the 21 COMESA Member States who are the drivers of trade and economic development, to deliberate on how to promote and advance cross-border trade amongst the representative States. The event also includes a presidential public-private round table where Heads of States interact with business leaders on key strategies to enhance industry competitiveness and formulate strategies to enhance local sourcing and intra-regional trade.

HE Uhuru Kenyatta, President of Kenya, who officially opened the event, urged Member States to explore different products that they could trade with and encouraged them to trade amongst themselves. "We need to come up with innovative and practical strategies to promote industrialization and enhance trade in our region," Kenyatta said.

Speaking at the event, the President of the COMESA Business Council, Mr. Marday Venkatasamy, highlighted that this summit is a step towards more business partnerships in Africa and in particular in the COMESA region. He stated that intra-COMESA trade stands at only 6 to 7 percent of total trade and underlined that the potential stands at more than USD 83 Billion annually. ""It is also about working together in order to integrate the global value chain. Africa has the potential to becoming a manufacturing hub to America, Europe and Asia. The continent has the raw materials, and the human capital, and we should work together to tap into the global market at competitive rates..."", he said.

Participants comprised several heads of states, including the President of the Republic of Mauritius, HE Mr. Paramasivum Pillay Vyapoory, Presidents from Zambia and Uganda and several ministers from the African continent.

The COMESA Source 21 Business Facilitation Handbook was also launched to provide market information and investment for its members. Dr. Amany Asfour, immediate past Chairperson of COMESA Business Council, stated that the handbook is the first step in combating lack of knowledge in the region and limited access to trade information in order to promote cross-border trade.

A Mauritian public-private sector delegation, including representatives from EDB, MCCI and Business Mauritius, is currently in Nairobi to attend the Business Summit. A Mauritius Pavillion has also been set up to promote Mauritius as the ideal business hub between Africa and Asia as well to showcase the know-how of Mauritian SMEs.