Business updates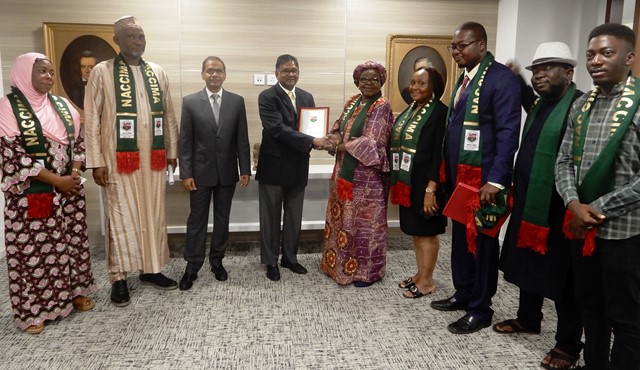 MCCI welcomes a delegation from NACCIMA
Regional Cooperation
25 Jul 2019
The MCCI has welcomed a six-member delegation from the Nigerian Association of Chambers of Commerce, Industry, Mines and Agriculture (NACCIMA) on 25 - 26 July 2019. Led by its National President, Hajiya Saratu Iya Aliyu (centre), the delegation is on a prospective visit to discover the different business opportunities available in Mauritius.
A working session was held at the seat of the MCCI on the 25 July, in the presence of the President of the MCCI, Mr. Marday Venkatasamy, to discuss avenues of cooperation between the business people of the two countries.
Both parties agreed that following the signature of the MoU, the collaboration between NACCIMA and MCCI will be further consolidated. B2B events will be organized so that both Mauritian and Nigerian business operators can have an overview on the different opportunities that they can exploit.
Mrs. Aliyu was pleased to note the development of Mauritius in terms of trade and expressed the wish to learn from Mauritius on this aspect.
Mr. Barlen Pillay, Secretary General of the MCCI, and Mr. Janesh Dookan, Manager, Logistics & Africa Desk, from the Economic Development Board, delivered presentations on the MCCI and on the business opportunities in/through Mauritius, respectively.
The MCCI has organized meetings with textile and manufacturing companies, as well as with the MCCI Business School.