Business updates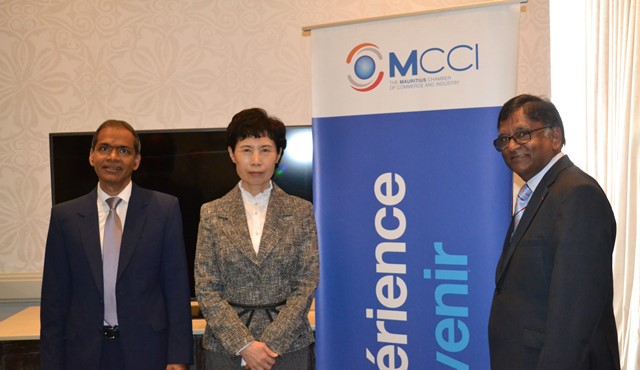 MCCI Meets with the Chairperson of CCPIT Beijing
Cooperation
24 Jul 2019
A meeting was organized between the Chairperson of CCPIT Beijing, Mrs. Gao Yan, the President of the MCCI, Mr. Marday Venkatasamy (right) and the Secretary General of the MCCI, Mr. Barlen Pillay (left), on Tuesday 23rd July 2019 at Labourdonnais Waterfront Hotel, Port Louis.
Mrs. Gao Yan (centre) expressed her satisfaction on the existing relations between Mauritius and China and stated her determination for a consolidation of the MCCI-CCPIT collaboration. She highlighted that more B2B events need to be organized so that operators from both parties can exploit the different scopes available. She acknowledged the fact that Chinese operators need to avail themselves of the opportunities that exist by using Mauritius as a gateway to Africa.
She has also invited the MCCI to participate at the China International Import Expo (CIIE) to be held in Shanghai in November 2019.
She has also stated that CCPIT will re-activate the organization of the capacity building programme with Chambers of Commerce as from November 2019.
Mr. Marday Venkatasamy, President of the MCCI, talked about the fast-growing development occurring at the level of the private sector in African region, especially in the maritime sector. He urged the delegates to exploit fully the advantages of using Mauritius as a hub to tap into the African market.
The meeting was held in the margins of the Mauritius-China Business Forum organized by the EDB on the same day in the presence of the Hon. Mr. Nandcoomar Bodha, Minister of Public Infrastructure and Land Transport and Minister of Foreign Affairs, Regional Integration and International Trade. The MCCI formed part of the official opening ceremony of the event.