The President of the Republic of Mauritius meets with the Private Sector of Pakistan
Business updates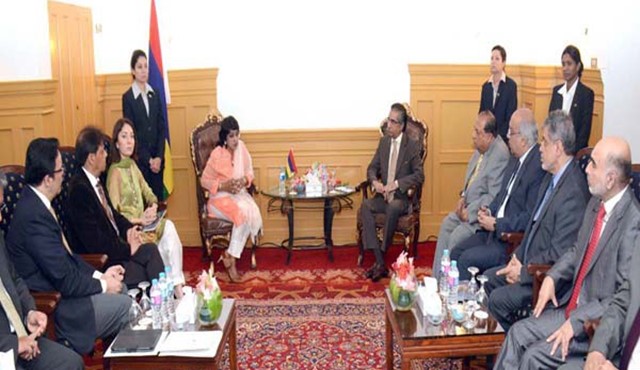 The President of the Republic of Mauritius meets with the Private Sector of Pakistan
Cooperation
21 Apr 2016
The President of the Republic of Mauritius, HE Dr. Bibi Ameenah Gurib-Fakim, met with Pakistan business people on 20 April 2016, in Karachi. Separate meetings were held with representatives of the Federation of Pakistan Chambers of Commerce and Industry (FPCCI), Karachi Chamber of Commerce and Industry (KCCI) and All Pakistan Textile Mills Association (Aptma).
The working sessions had been organized in the context of the official visit of the President of the Republic of Mauritius to Pakistan from 17 to 20 April 2016, on the invitation of the Pakistan President, HE Mamnoon Hussain. The main objective of this visit was to strengthen existing bilateral ties between the two countries, with particular focus on education, health, tourism and trade.
The Mauritian delegation included the President of the Mauritius-Pakistan Joint Business Council, Mr. Shehzad A. Ahmed, the Secretary General of the MCCI, Mr. Raju Jaddoo, and a representative of the Board of Investment.
Photo Courtesy: http://www.demo.app.com.pk/mauritius-president-meets-different-trade-bodies/