Webinar : Practical Insights on Mediation and Arbitration
Business updates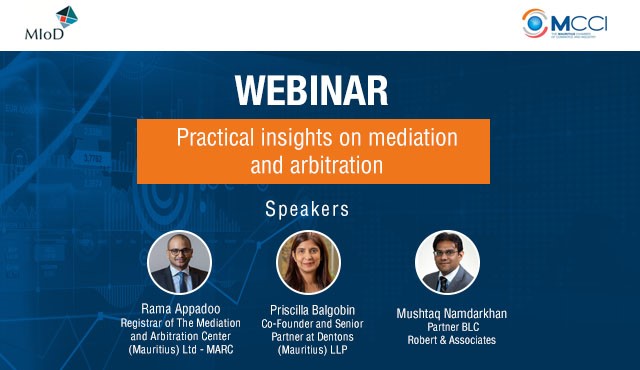 The Mauritius Institute of Directors (MIoD), in collaboration with the Mauritius Chamber of Commerce and Industry (MCCI), is organizing a webinar themed "Practical Insights on Mediation and Arbitration". Rama Appadoo, Registrar of The Mediation and Arbitration Center (Mauritius)(MARC), Priscilla Balgobin, Co-Founder and Senior Partner at Dentons (Mauritius) LLP and Mushtaq Namdarkhan, Partner at BLC Robert & Associations, will focus their discussions on the resolution of disputes through mediation and arbitration, as opposed to State courts.

You are cordially invited to this event, scheduled on the 15th of July 2021, from 3pm to 4.30pm.

Kindly send a mail to the following address: mcci@mcci.org for registration by the 12th of July 2021.