ICC WCF Chairperson, Peter Mihok, meets members of the MCCI
Business updates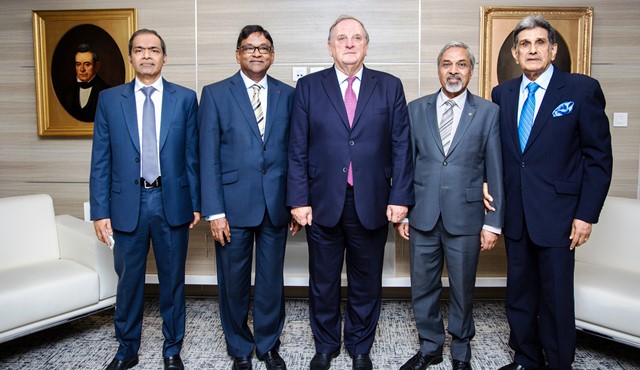 ICC WCF Chairperson, Peter Mihok, meets members of the MCCI
MCCI
06 Sep 2018
MCCI has welcomed the ICC WCF Chairperson, Peter Mihok, at its premises today, Thursday 6th September 2018. Mr. Mihok was present to deliver a talk on the Challenges in the New International Economic Environment. He also highlighted the role of Chambers of Commerce across the globe as being the advocate for the private sector to the Government. He pointed out several challenges that Chambers of Commerce are facing and proposed solutions so that Businesses remain the driving economic engine of a country.
In the margins of his visit, and as the President of the Slovak Chamber of Commerce and Industry (SCCI), he also talked about the numerous avenues of cooperation available between Mauritius and Slovakia.
Mr. Marday Venkatasamy seized this opportunity to underline the longstanding collaboration between MCCI and ICC World Chambers Federation.
A Memorandum of Understanding between MCCI and SCCI was signed to open the doors for further collaboration between members of both business communities.
The MCCI also issued the third edition of its annual magazine, MCCI Insights, during the event. While MCCI Insights contains an overview of the services that the chamber offers, it underlines mainly our outreach at the international front.