MARC signe un MOU avec la MBA en vue d'une meilleure coopération pour instaurer les bonnes pratiques en matière d'arbitrage
Business updates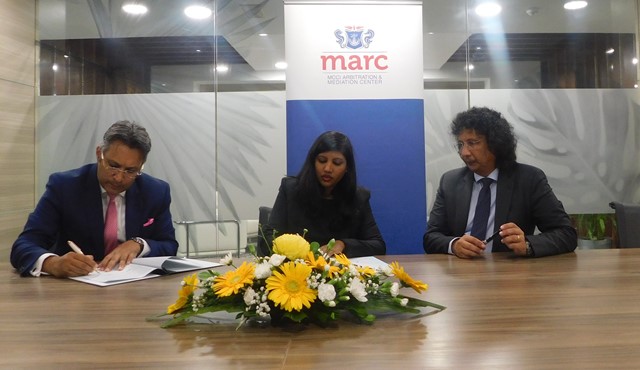 MARC signe un MOU avec la MBA en vue d'une meilleure coopération pour instaurer les bonnes pratiques en matière d'arbitrage
MARC
29 Jan 2019
Le MARC, le centre d'arbitrage et de médiation de la Mauritius Chamber of Commerce and Industry a signé le mardi 29 janvier 2019 un accord de coopération avec la Mauritius Bar Association (MBA) en vue de mieux collaborer dans le domaine de l'arbitrage.
Les deux institutions, conscientes du rôle crucial qu'elles ont à jouer afin que Maurice soit perçue internationalement comme une plateforme attrayante pour les investisseurs et hommes d'affaires étrangers mais également pour que  Maurice soit reconnue comme une juridiction d'arbitrage de classe mondiale, conviennent par cet accord,  de coopérer pour  promouvoir  l'arbitrage et  la médiation en tant que moyen alternatif pour  régler les différends nés de transactions commerciales.
 Les deux institutions s'efforceront de faciliter l'organisation de programmes de formation en matière d'arbitrage ou de médiation dans le but de diffuser les bonnes pratiques parmi les professionnels du droit afin de parvenir à l'excellence dans le domaine de Méthodes Alternatifs de Règlement de Litiges (MARLS).
Les discussions entre le MARC et la MBA en vue de réaliser cet accord de coopération avaient débuté lors de la visite de Lord Neuberger, ancien Chef Juge de la Cour Suprême de l'Angleterre, à Maurice en avril 2018.
De gauche à droite: Me. Yahia Nazroo, Secrétaire du Mauritius Bar Council, Me. Dipna Gunnoo, Head du MARC, et Me. Hervé Duval SC, Président du Mauritius Bar Council.