Trade and Investment Forum in Zanzibar
Business updates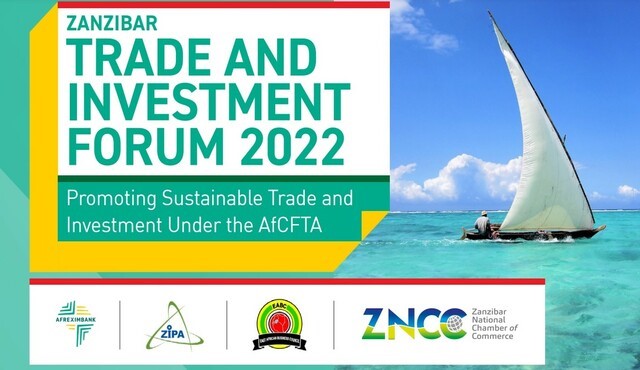 Trade and Investment Forum in Zanzibar
18 Nov 2022
The Afreximbank, in collaboration with the Zanzibar Investment Promotion Authority (ZIPA), the Zanzibar National Chamber of Commerce (ZNCC) and the East African Business Council, is jointly organising a Zanzibar Trade and Investment Forum (ZTIF).


The event themed "Promoting Sustainable Trade and Investment Under the AfCFTA" will be held from 30 November to 1 December 2022 at the Golden Tulip Hotel, Zanzibar, Tanzania.
The ZTIF aims at promoting trade, investment and finance opportunities between Zanzibar and the rest of Africa in the context of the African Continental Free Trade Agreement (AfCFTA).


H.E. Dr. Hussein Ali Mwiny, President of Zanzibar and Chairman of the Revolutionary Council will be the keynote speaker. Other expected attendees include CEOs, heads of private sector organisations, Ministers, senior government officials and investors, among others.
To register for the ZTIF and to view available sponsorship packages, please click here.